Neftali Feliz's Debut: Grading the Texas Rangers' Rotation After First Start
April 11, 2012

Neftali Feliz was unbelievably efficient during his debut as a starter.  Scattering four hits over seven innings, while walking just two and striking out four...while providing a gigantic cherry to place atop the Texas Rangers' starting rotation after Week 1.  
Now that we've seen all five starters, from Colby Lewis on Opening Day to Neftali Feliz last night—plus the left-handers: Derek Holland and Matt Harrison...as well as some dude named "Yu," we can kick back, relax and check out the numbers.
Here's a teaser: The numbers look pretty dang awesome.  
How about a 2.93 ERA from the rotational five? And yes, amazingly, I'm talking about the Texas Rangers' staff.  Don't forget to chew up that breakfast bagel properly; we wouldn't want you to get it lodged in your windpipe—because it might.
A 2.93 ERA, from a team that once featured men named John Koronka and Ryan Drese in its rotation...and was actually excited about that.  
Here's a breakdown of how all five of the Texas Rangers' starting rotation fared after their first starts of 2012.
Colby Lewis (1-0, 3.00 ERA, 9 Ks, 1 BB)
Line: IP: 6, Hits: 7, ER: 2, BB/SO: 1/9 WHIP: 1.33
Sure, when Colby Lewis was announced as the team's Opening Day starter—way back in December—there was some grumbling from the fan base.  And this was before the Rangers won the bidding for Yu Darvish.  
Well, the man delightfully referred to as "Colbyashi" has taken to the role of "grizzled veteran"—complete with beard—about as well as humanly possible.  He even limps around when he's not pitching!  Here's the deal with Lewis: It's no act.  The man has a bad hip, but there is nothing wrong with his right arm, that's for sure.
Lewis' fastball always stands a good chance of not breaking 90 MPH. Truth be told, it tends to sit around 89.  However, his slider is top notch, and no other pitcher in the rotation knows his body, arm and strengths/weaknesses better than he does.
On Opening Day, Lewis was in postseason form, and his numbers reflect that.  Rangers' manager Ron Washington made the right call to give Colbyashi the ball on opening day.
GRADE: A- (Lewis did surrender a homer. It's going to happen; take that away though, and he's an A to A+ during this start). 
Derek Holland (0-0, 4.50 ERA, 5 Ks, 3 BBs)
Line: IP: 6, Hits: 3, ER: 3, BB/SO: 3/5 WHIP: 1.00
Really, this was vintage Derek Holland.  At times he flashed ace potential, only to walk two batters with two outs. The flash tends to flameout.
Holland gave us all something to dream on during his Game 4 performance in the 2011 World Series. He's not there just yet—but he's getting closer.  I'm of the opinion that his lapses in concentration and consistency will become fewer start by start, until he eventually begins to put up starts more in the mold of fellow left-hander, the uber-underrated Matt Harrison.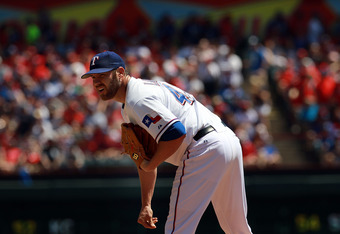 Ronald Martinez/Getty Images
GRADE: B- (Perhaps Game 4's greatness set the bar too high, but thanks to that masterful performance, the entire world knows what Holland is capable of.) 
Matt Harrison (1-0, 0.00 ERA, 3 Ks, 2 BBs)
Line: IP: 6, Hits: 4, ER: 0, BB/SO: 2/3 WHIP: 1.00
Not as dominant as Lewis was, but certainly more consistent than Holland, Matt Harrison is becoming an upper-tier major league pitcher, and he's doing it with little fanfare.
"Harri" is starting to display a true knack for avoiding the big inning.  He's the type of pitcher who will probably never be in the mix for the All-Star game or the Cy Young Award, but when it's all said and done, he'll end up having a very solid big league career.  
Don't be surprised if he leads the Rangers in wins this year.  There, I said it.
GRADE: A (Again, he might not "wow" you with his numbers, but in his start, the Chicago White Sox never really had much of a chance.) 
Yu Darvish (1-0, 7.49 ERA, 5 Ks, 4 BBs)
Line: IP: 5 2/3, Hits: 8, ER: 5, BB/SO: 4/5 WHIP: 2.12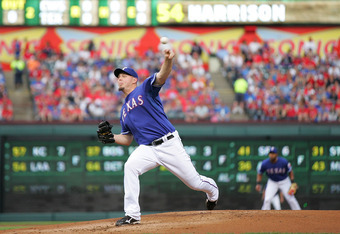 Rick Yeatts/Getty Images
Remember the aforementioned team ERA of 2.93?  Well, if you subtract the debut of The Yu, it'd be a blink-and-you'll-miss-it 1.80 ERA.
Whoa.
The best way for me to sum up Darvish's debut is that by the time I took my seat in the nosebleed seats of Rangers Ballpark in Arlington, I was on beer three, and the Rangers were already down by two...it only got worse from that point.  
Two innings into his initial big league start, and the Rangers were down five.  No kidding, Scott Feldman was up in the bullpen in case Darvish couldn't make it out of the first inning.
Yikes.  
But Yu recovered and at one point retired 10 straight Mariners.  He's going to be just fine, and hey, he pitched well enough to keep the Rangers in a position to win—which they did.
GRADE: C+ (Children cover their eyes when they look at his current ERA. He flashed the "stuff" that is off-the-charts awesome, but he also showed poor-to-dismal command at times.) 
Neftali Feliz (1-0, 0.00 ERA, 4 Ks, 2 BBs)
Line: IP: 7, Hits: 4, ER: 0, BB/SO: 2/4 WHIP: 0.86
Ronald Martinez/Getty Images
Wow! Neftali Feliz was absolutely excellent in the first start of his career.  The reason for his success? He commanded his fastball and backed it up with solid off-speed offerings consistently—all game long.  
Basically, he did what we all wished he would have done more as a closer: throw something other than the fastball, for crying out loud! 
It is beyond the scope of this article to explain the many reasons that I don't gamble on sports.  One fine example is how Yu's start went down as opposed to Neftali's.  I'd have bet it all that the statistics and success would have been flipped.  
GRADE: A+ (Neftali was the only pitcher to go past the six-inning threshold.  It allowed Alexi Ogando to get the  night off, which is excellent, because we want/need him fresh.  So dominant was Feliz, that he even allowed the vaunted Rangers offense to take the night off...and he still earned the win.)