WWE: Brock Lesnar and Why Big Monsters Are Back in a Big Way
April 10, 2012

In the middle of his feud with Triple H last summer, CM Punk pointed out that the WWE hadn't really given him big opportunities because the company (read: Vince McMahon and Triple H) prefers big bodybuilder-types over smaller, more agile wrestlers like Punk.
While there were no doubts then as to what the WWE's preferences were, the WWE has wasted no time in starting the post-'Mania 28 year off by giving a number of physically huge men their TV time.
The WWE has put the hiring and promotion of Brock Lesnar front and center. Lesnar, who stands 6'3", weighs in at 266 pounds and is still built like a tank, has done his part to keep the mainstream sports media talking about the WWE and has bulldozed his way through John Cena three times in two weeks.
Lesnar is set to face Cena at Extreme Rules in what will likely be a main event promoted to overshadow any WWE title match. While Lesnar may not have "earned" main event status (he did desert the company eight years ago for other ambitions), he is a key player in the WWE's desire to stay relevant.
Lesnar is one of those personalities who is bigger than the sport but he still follows a lot of the tactics that are usually booked for "monster" wrestlers. He's a powerful man who can lay waste to any superstar he chooses (so far that's only Cena, but who else wants to get in the way of that) and he has proclaimed himself as "The War Machine," a fearful name that could be a dig at Rhyno, the MMA fighter of the same moniker or the Marvel Comics character.
Putting Lesnar front and center isn't the only way that the WWE is utilizing their tried-and-true formula of bringing in a massive guy to clean house with the roster and eventually play "Goliath." Last week saw the introduction of Lord Tensai on Raw and Ryback on Smackdown.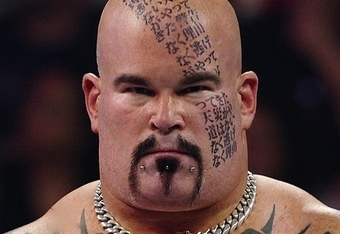 Tensai, formerly known as Albert or A-Train, has returned to the WWE after nearly seven and a half years in his new Japanese Warrior gimmick. This big man has laid waste to Alex Riley and Yoshi Tatsu in quick succession and is being primed as a "career killer," winning both matches as a result of his opponents being no longer able to compete.
Ryback, who unlike Tensai has had his previous Skip Sheffield persona specifically referred to by the commentary team, made his debut on last week's Smackdown defeating a jobber via pinfall. His segment included cutaways to other wrestlers watching the show on a monitor backstage (amongst them were Hunico, Derrick Bateman and Kaitlyn). It remains unclear if Ryback will be booked as a face or a heel, although his booking may not matter as he looks to be getting a solid push regardless. 
There's nothing inherently wrong with preferring the old-fashioned "giant guys beating each other up" booking, but it seems to be coming at the expense of smaller guys who aren't given similar momentum.
The most notable burial is of Daniel Bryan, the small but technically impressive former World's Heavyweight Champion. He was recently the focus of much love amongst the WWE fan community, but the WWE has chosen to ignore the fans here, starting with some awkward editing and sound design on last week's Smackdown in an apparent effort to minimize his presence on television. 
Bryan may be suffering for any number of reasons, but given the new focus on more physically imposing types, it would seem that Punk's complaint from last summer is now showing up in Bryan's trajectory in the WWE.
Moving forward, certainly small guys on the bottom of the roster like Trent Barretta didn't have bright futures with the WWE, but with the new focus on giants, physically dominant low and mid-carders like Tyler Reks may be granted a reprieve from being released from the company.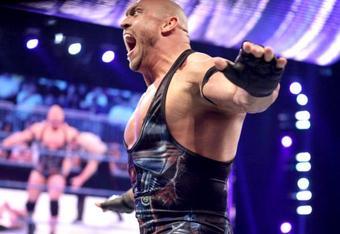 Perhaps the most telling sign that the WWE is looking to refocus the company is the promotion of Damien Sandow from FCW. Although Sandow's intellectual gimmick puts him in a different category than the usual monster, his promotion over more lithe personalities like Dean Ambrose or Seth Rollins has as much to do with his stature and physical presence as it does a ready television-friendly personality.
Sandow is excellent on the mic, so it will be interesting to see how the WWE utilizes him in the coming weeks. He will have to be dominant in his first few matches in order to establish his presence in the company and make the fans interested, but how he wins those matches will be very telling.
It may be a bit early to declare this "The Year of the Monster," but it's clear the WWE is making the booking of these larger men a high priority in the new wrestling year.