St. Louis Cardinals vs. Cincinnati Reds: Series Preview and Predictions
April 9, 2012

John Sommers II/Getty Images
The World Series champion St. Louis Cardinals will visit Great American Ballpark on Monday for an early season series against the Cincinnati Reds. 
The Reds are the early season favorite to win the NL Central this year and there is a deep history of hatred between the two teams.  The fact that each team only has one loss so far this season only adds to the drama.
St. Louis has dominated its opponents so far in 2012.  Their only loss came at the hands of a Zach Greinke pitching gem.  They've outscored their opponents a combined 24-9 in their other three games.
The Reds are 2-1 so far on the season.  They handily beat the Marlins on Opening Day before falling in a home run-filled, Mat Latos debut on Saturday night.  The Reds worked some of their 2010 magic on Sunday afternoon when Jay Bruce and Scott Rolen helped pull out a walk off victory and keep the Reds in second place.
Game 1
Game 1 is scheduled for first pitch at 7:10 PM est Monday night with Homer Bailey facing off against Jake Westbrook. 
Bailey has historically struggled against the Cardinals.  He's 2-5 in nine career starts with a 5.64 ERA and a 1.522 WHIP.
The veteran Westbrook actually hasn't faced the Reds very many times in his  career.  Westbrook has faced the Reds just eight times resulting in a 2-1 record and 4.69 ERA.
Brandon Phillips is the Red with the most success against Westbrook.  Philliips has hit .429 with 6 hits in 14 ABs.
Look for Chris Heisey to make an appearance in the line-up on Monday.  Heisey is 3 for 6 with 3 home runs in his his career against Westbrook.
Matt Holliday and Rafael Furcal have had the most success against Bailey on this Cardinals team.  Holliday is .400 in 15 AB's with a home run and three RBI and Furcal is at .417 with 2 RBI in 12 AB's
Prediction - Reds win 7-5.
Game 2
Game 2 is scheduled for first first pitch at 7:10 PM est Tuesday night with Mike Leake facing off against Kyle Lohse (1-0). 
Lohse dominated the Marlins on Opening Night pitching 7.1 innings and allowing just two hits.  Lohse currently has a WHIP of just 0.27.
Lohse is just 2-3 against the Reds in his career, compiling a 4.14 ERA and 1.314 WHIP.  However, he's done a good job at holding the players currently on the Reds in check.
Joey Votto has had the most success against Lohse for the Reds.  Votto is hitting .333 with 4 hits in 12 AB's, but he's also struck out 4 times.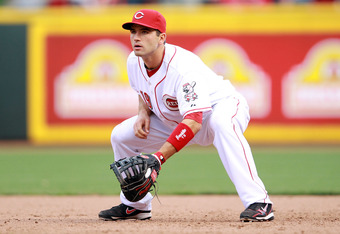 Andy Lyons/Getty Images
Leake has struggled mightily against the Cardinals.  The 24 year old has faced the Cardinals three times in his career with a 1-1 record and a 6.97 ERA.  His WHIP of 1.839 is second only to a 1.842 WHIP against the Giants.
Most of Leake's struggles have came against Cardinals that currently aren't on the roster anymore.  The current team is hitting just .220 with a .524 OPS against him.
Prediction - Reds win 4-0
Game 3
Game 3 is a day game at GABP with a first pitch scheduled for 12:35 PM est.  The game will feature Reds ace Johnny Cueto (1-0) battling Jaime Garcia (1-0).
Johnny Cueto nearly matched Kyle Lohse brilliant start against the Marlins with a gem of his own.  Cueto pitched seven innings, striking out four and allowing only three hits and no runs.
Garcia was the winning pitcher in the Cardinals' 9-3 victory over Milwaukee on Sunday.  Garcia pitched six innings, allowing just five hits and two runs.
Garcia has completely dominated the Reds in his career.  He'll enter the game at 6-1 with a 3.13 ERA and WHIP of 1.174.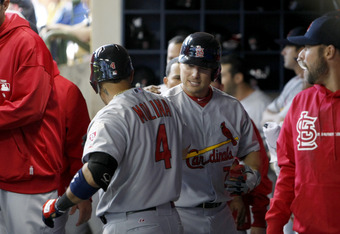 Mike McGinnis/Getty Images
Nearly every Red player who has faced him has struggled, including Joey Votto.  Votto is hitting just .125 with two hits in 16 at bats along with five strikeouts.
The only player to have even moderate success against Garcia is Drew Stubbs.  Stubbs comes into the game hitting .294 with a home run and two RBI against Garica.
Cueto has had mixed success against the Cardinals.  He pitched much better against them in 2011, but his career numbers sit at 4-4 with a 4.94 ERA and a WHIP of 1.423.
Matt Holliday, John Jay and Carlos Beltran have all hit Cueto very hard.  Jay is at .533 with two home runs and five RBI, while Holliday has hit .350 with seven hits in 20 at bats.
Prediction: Cardinals win 7-1