Red Sox vs. Tigers: Alex Avila Provides Heroics as Detroit Sweeps Boston
April 8, 2012

Dave Reginek/Getty Images
Spring training set the tone. The Detroit Tigers headed into the season as the team expected to win a pennant and challenge for a World Series title. Three games in, Detroit is 3-0 and sitting atop the American League Central standings.
Game No. 3 was a marathon that ended over four hours after it began with another early season Motor City celebration, as Alex Avila flipped his helmet at the dugout and met a dog pile of teammates at home plate.
Today's victory, an 11-inning dramatic win off Avila's hot bat, was delivered via Boston reliever Mark Mencon's 2-2 pitch that landed against the right-center railing to seal the win.
Avila's home run nearly got clipped by the tip of Boston right fielder Cody Ross' glove, but instead was just high enough for a two-run walk-off home run and series sweep—the start of a Tigers winning streak.
No better place to start a streak than at the beginning.
Detroit's onslaught of Boston's starting pitching continued for a second day, as Clay Buchholz was knocked around for seven runs and eight hits in only four innings of work. Vicente Padilla pitched admirably after Buchholz was knocked from the game, providing four solid innings of relief work.
Boston's streak is the flip side of the previously mentioned streak equation—two one-run losses in a three-game series that also saw them get blown out 10-0 on Saturday. All good streaks involve a small run of luck and the Tigers stole two early in a season where they're likely to show little mercy on most nights.
Leon Halip/Getty Images
The Tigers scored 26 runs in the three-game opening set with Boston; that's the most in an opening series in franchise history, eclipsing the former record of 24 set in 1983 and repeated in 1985.
The Tigers tallied 17 hits on Sunday afternoon, one fewer than Boston's 18. Austin Jackson continued his outstanding early season hitting display and led Detroit with four hits on the day, including a double and three singles. 
Brennan Boesch had a key hit in the ninth and finally got things going this season by chipping in two singles along with an RBI and run scored on the day.
The 12-hit effort of Boston's top five hitters, including three each from Nick Punto and David Ortiz, was not enough to push the Red Sox past Detroit despite their best efforts to combat Detroit's relentless lineup. Mike Aviles also had three hits and three RBI on the day for Boston. 
Notwithstanding Avila's heroics in the 11th, Tigers slugger Miguel Cabrera built on his already outstanding first series set by grabbing three hits and a sacrifice fly. His biggest of the day was a three-run, game-tying homer in the bottom of the ninth to tie the game at 10-10.
Cabrera also hit a single in the bottom half of the 11th inning to assist in the Tigers win. Cabrera totaled five RBI today and already has eight on the season with three home runs.
Tigers starter Max Scherzer struggled to find any sort of rhythm or consistency today, spotting pitches well out of the strike zone and struggling to finish off hitters when he was ahead in the count. Scherzer was knocked around for seven runs on eight hits in just 2.2 innings of work in a short opening stint at Comerica Park.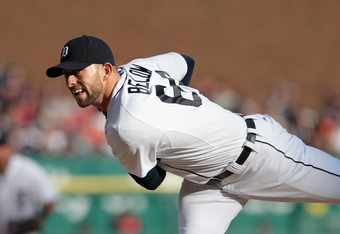 Leon Halip/Getty Images
Detroit rookie Collin Balester worked 2.2 innings of solid relief, giving up just one run and two hits. Jim Leyland emptied his bullpen; he threw out nearly every available arm he had, including Duane Below, who didn't figure to pitch the remainder of this opening series. 
However, Joaquin Benoit's inability to get out of the top of the 11th forced Leyland to call Below's number again early this season—a second call to a guy who wasn't on the roster a week ago. 
The result: The Tigers are 3-0 and rookie Below is 2-0 in his first major league campaign. It only took him a single out to earn his second victory and in fewer than three innings of work (2.2), he has two victories. A little luck never hurts, or in Below's case, great timing.
Bobby Valentine stood in front of the visiting dugout at Detroit's Comerica Park and watched as the players moved about on the field following a second tough loss in the opening series of the season. He had to be thinking to himself after his team's 12 runs and 18 hits, "What's it going to take to beat these guys?"
He won't be the only manager left feeling that way, as the Tigers begin their romp through the American League jungle. How many times will they be left watching a Detroit celebration off the bat of Cabrera, Fielder or in today's case, Avila?
Three games in and the Detroit party is in full tilt already.
Box score stats provided by mlb.com.
Bleacher Report Featured Columnist J. Cook is a member of B/R's MLB Coverage Team and contributes to B/R's MLB content and Detroit Tigers page. He also covers key sport interest stories for all of Detroit's major sports teams.