Stanley Cup Odds 2012: Teams Most Likely to Raise Cup in June
April 7, 2012

Elsa/Getty Images
We are getting close to the National Hockey League playoffs—the best postseason tournament in all of sports.
Seeds are just about set and play will begin next week.
Here are three teams that I believe have the best chance of raising the cup come June.
Everybody's favorite team to hate is the Pittsburgh Penguins—at least if you play in the Atlantic Division. They are dirty, the organization is the most arrogant in the league and their two stars are "whiny."
This comes a year after Matt Cooke's season full of dirty hits.
How surprising is that?
Anyways, the Penguins have the best chance to win the Stanley Cup. I didn't think they would win last year because of their lack of scoring (even if they had Sidney Crosby available for the playoffs), but this year I think they're ready.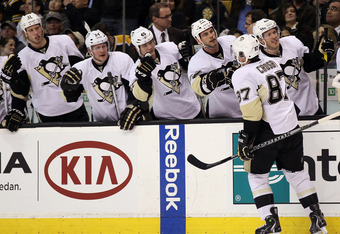 Elsa/Getty Images
Their offense has been unreal this season. Pittsburgh leads the league in goals per game with 3.3; five players have 24 goals or more and nine have 10 or more.
Pittsburgh's special teams is fifth on the power play and third on the penalty kill. James Neal really turned his production up after struggling at the end of 2011 after being traded from Dallas. He has 40 goals and 41 assists for a total of 81 points.
Those are career numbers.
Evgeni Malkin will win the Art Ross Trophy with the most points in the league, Jordan Staal is the best third-line center in the NHL and Marc-Andre Fleury has what it takes to go on a Stanley Cup run in goal.
Most of this has happened without Crosby, the face of the NHL. If he can stay healthy, the defense plays solid and Fleury is on top of his game, the Penguins will win the Stanley Cup.
Chances of winning: 15 percent
Vancouver came close to winning the Stanley Cup last season before falling to the Boston Bruins in the Stanley Cup Finals.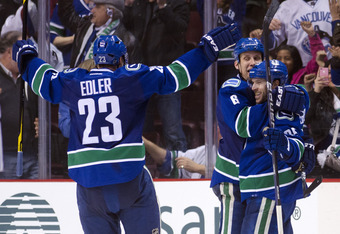 Rich Lam/Getty Images
Instead of having a letdown type of season, the Canucks came out strong and are tied with the New York Rangers for the league's most points with 109.
The Canucks are a team full of balance. They are solid on special teams, score 2.9 goals per game and Roberto Luongo, Cory Schneider and the defense hold teams to 2.4 goals per game.
Vancouver is a well-rounded machine.
Henrik and Daniel Sedin (despite Daniel being out with a concussion) give the Canucks the firepower needed to beat any team in the field. Ryan Kesler, Alex Burrows and Alexander Edler also provide quality scoring production.
Vancouver could have went either way after losing in 2011. It just shows their character to come back and perform like they have.
Expect the Canucks to make another deep run.
Chances of winning: 14 percent
Boston Bruins
The reason why I am highlighting Boston instead of the New York Rangers, St. Louis Blues or Detroit Red Wings is because they are the defending champions.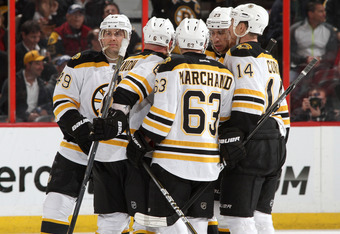 Jana Chytilova/Freestyle Photo/Getty Images
To be the best, you have to beat the best. They should get praise for being a real contender in this tournament because they are the champions.
If Boston still has Tim Thomas in net, then I won't count them out.
Thomas should be ready to go when the postseason comes along next week. He has won 34 games this season, posting a 2.36 goals-against average and .921 save percentage.
Boston has a balanced scoring attack led by Tyler Seguin, who has 65 points. Nobody on the Bruins' team will blow you away like Malkin, Crosby or the Sedin twins, but they do have a ton of grit led by Zdeno Chara on the blue line.
The 6'9", 255-pound defenseman will give any line issues in the postseason.
Chances of winning: 12 percent
Several other teams
The NHL playoffs are the greatest tournament and playoff spectacle in all of sports. I get in arguments every year about this situation and my stance never changes.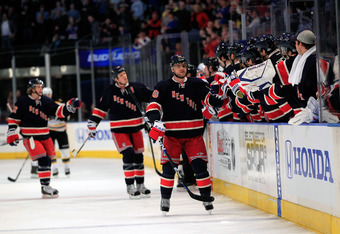 Chris Trotman/Getty Images
Every team in the postseason has a legitimate chance of winning the Stanley Cup. No. 16 seeds won't win NCAA Tournaments, No. 8 seeds won't win NBA Championships and Apoel F.C. won't win the UEFA Champions League.
This tournament is different and that's why it's so special.
New York, Detroit, St. Louis, Nashville, Washington, Florida, Los Angeles, Philadelphia, New Jersey, Ottawa, Phoenix, Chicago and San Jose can win the tournament if they get hot and play well.
Don't count out any team.