Dale Earnhardt Jr: Is NASCAR's Most Popular Driver for Real in 2012?
April 3, 2012

Jonathan Ferrey/Getty Images
Dale Earnhardt Jr. has taken a lot of flak over the past four years.
With a winless streak that has now spanned 135 NASCAR Sprint Cup Series points paying races and only one Chase berth since his first year with powerhouse team Hendrick Motorsports in 2008, Junior has taken a lot of heat from fans and media alike.
But not anymore.
Six races into the 2012 NASCAR Sprint Cup Series season, Dale Earnhardt Jr. sits second in the standings.
That's right. Second. His highest standing six races or more into the season since 2008.
Earnhardt has been on fire to start the 2012 season. His three Top fives and four Top 10's are each tied for most in the sport, with only points leader Greg Biffle matching both of those totals to start the season.
Earnhardt has looked very competitive racing for the lead this season, holding the top spot at one point in three of the first six races and ranking ninth in miles led through six races.
But though Junior has been solid through the season's first six races, is NASCAR's most popular driver for real in 2012?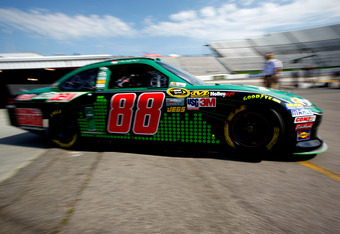 Jeff Zelevansky/Getty Images
To answer that, let's start by taking a look at history.
Though Earnhardt's reputation over the past few years seems to indicate that Driver No. 88 starts well but fades as the season goes on, the stats suggest otherwise.
Three times in the past four years, Junior has ranked 10th or better in the standings after six races. Only one of those years (2010) saw Earnhardt actually fail to make the Chase for the Sprint Cup.
Dating back to 2003, Earnhardt has ranked in the Top 10 in the standings after six races, six times, finishing outside the Top 10 just twice and inside the Top five three times.
But if history isn't enough to convince you that Junior's 2012 start is no fluke, consider these stats.
Earnhardt Jr's average on-track running position is 9.758, fourth best out of the sport's full-time drivers. Only four other drivers have an average running position in the Top 10, including Biffle, Tony Stewart, Matt Kenseth and Brad Keselowski.
What that stat shows is that Earnhardt has not lucked into his good finishes. He really has been that solid.
Earnhardt has done a stellar job of passing good cars, as well. His 410 quality passes (passes on cars running inside the Top 15) ranks him third in that category, behind Keselowski and Stewart.
Junior also ranks fourth in driver rating, a statistic which combines all of the most important categories including finishes, average running position and fastest laps.
In fact, Earnhardt's 101.2 rating makes him one of only five drivers to earn a rating of over 100, along with Stewart, Biffle, Kenseth, and Denny Hamlin.
The only stat in which Earnhardt does not possess a glowing mark is the "Closer" statistic, which measures positions gained or lost in the final 10 percent of races—Earnhardt ranks 38th in that category with minus-four.
But keep this in mind, Earnhardt actually lost roughly 10 positions late in the race at Bristol after a pit road speeding penalty, relegating him to a 15th-place finish.
Should Earnhardt not have been hit with that penalty, he would have likely earned a Top 5 and would not only rank right around 15th in the "Closer" stat with a plus-six, but would likely have the points lead, as well.
If anything, Earnhardt's trouble closing out races may just be a sign that the driver hasn't reached his full potential yet in the 2012 season. He's second in the standings, and could be even better.
That's a scary thought.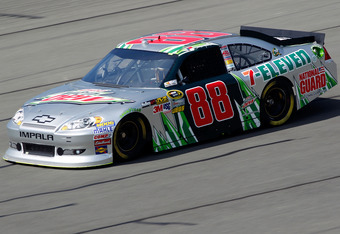 Todd Warshaw/Getty Images
Earnhardt Jr. has been as solid as they come, so far, in 2012. Though his winless streak continues to grow, his finishes keep getting better and better, and the likelihood of that winless streak coming to an end keeps getting greater.
Should Dale Earnhardt Jr. improve upon his "Closer" stats, while maintaining his glowing rankings in the other categories, NASCAR's most popular driver will have no problem making himself a legitimate contender as the 2012 season progresses.
To answer the question pondered in our title: is Dale Earnhardt Jr. for real in 2012?
You'd better believe it.