Los Angeles Dodgers' Most Pressing Concerns as the Season Nears
April 2, 2012
Christian Petersen/Getty Images
The Frank McCourt era in Los Angeles is over.
It feels good just writing that.
Now, with Magic Johnson and Stan Kasten manning the Dodger ship, this team has an extremely bright future.
Dodger fans have been rejoicing in the new ownership and the potential that comes with it. However, this club still has some concerns that need to be addressed in order for the team to be contenders in short order.
For starters, be thankful that the team managed to sign Matt Kemp to a long-term contract while locking up Clayton Kershaw for the next two seasons.
In the case of Kershaw, seeing what Matt Cain just signed an extension for, be sure that Kershaw will demand some significant dollars very soon.  Magic may be best served to try and restructure the deal with Kershaw to keep him in LA long-term.
Other than those significant moves that made the team better by locking up key players, the team did not sign any major free agents.
That's okay.
What they did do was address some concerns in a small market frame of mind while this whole Frank McCourt mess was put to bed.
An interesting situation to watch will be the of signings Aaron Harang and Chris Capuano.
The Dodgers allowed Hiroki Kuroda to walk, which came as a bit of a surprise, especially considering he only signed for $10 million with the Yankees and the combination of Harang and Capuano cost $22 million.
This may be a move that could bite the Dodgers.
What the team lost in dependability in Kuroda they've made up for in age, as both Capuano and Harang are just 33 years old, while Kuroda is 37.
With this move, it seems likely that at some point young Nathan Eovaldi will get a spot start from time to time to further his development. With Ted Lily starting the season on the disabled list, his time may come sooner than later.
The other concern I have with the pitching staff revolves around the loss of Jonathan Broxton to free agency. 
The idea of losing a key member of the starting rotation and your closer is a bit scary, but the team now has a solid front office behind them to make any moves/adjustments necessary to right the ship.
The signing of 34-year-old Mark Ellis to play second base seems to be a question mark as well.
While he will offer the Dodgers solid defense, he won't exactly be taking home a Silver Slugger award any time soon.
That being said, Ellis is an upgrade over Ivan De Jesus Jr., but the idea of Harry Hairston as the backup scares me slightly as well. The Dodgers are old at that position, which may dictate a mid-season trade if either injury or lack of productivity takes up residency at second.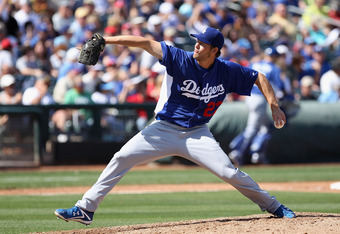 Christian Petersen/Getty Images
The last area that really concerns me heading into the 2012 season is the play of Juan Rivera. His career .327 OBP is less than inspiring even though he had a nice "spike" with the Dodgers in 2011, posting a .333 OBP in 62 games for the boys in blue.
Prior to that, he had been trending downward, posting a .312 OBP in 2010 and .319 in 2011 with the Angels. He posted a lowly .305 OBP in 70 games for the Toronto Blue Jays in 2011.
If Rivera struggles out of the gate, the job may very well find itself filled by Tony Gwynn Jr.
All in all, this is going to be a very exciting season for the Dodgers and their fans.
The team has a pulse and has been invigorated with new life since the sale of the team.  This once proud franchise could very will find itself turning a lot of heads in 2012.