WWE: Will Brock Lesnar Appear on RAW with the Rock and John Cena Monday Night?
April 2, 2012

Jon Kopaloff/Getty Images
If WrestleMania 28 wasn't the stage for Brock Lesnar to return to the WWE, perhaps the night after will be.
Lesnar will be back with the WWE soon and until he is officially introduced, the anticipation will continue to increase.
After Lesnar did not appear at WrestleMania 28, many wonder if he will show up at Raw on Monday night. It would be a safe assumption,  considering he was seen in Miami, and Raw is in Miami on Monday.
Cagesideseats.com has continued to report that "speculation is still high that WWE has plans to announce the main event of WrestleMania 29 in New Jersey next year on tonight's show."
The Rock and John Cena are scheduled to appear on Raw according to the American Airlines Arena website: "After their 'Once in a Lifetime" match at WrestleMania 28, both The Rock and John Cena will be at the American Airlines Arena in Miami-the very next night- live!"
It was speculated that Lesnar would interfere with their match at WrestleMania. However, with a clean match and a no-show from Lesnar, is Raw the stage for his return to the WWE?
I think that this is as good a night as ever for Brock's return. Lesnar can be involved on Monday night with the opportunity to promote a possible match against The Rock or Cena, should the WWE choose to go down that path.
Both Cena and The Rock are already on board to be a part of WrestleMania next year.
If the rumors are true about WWE announcing a WrestleMania 29 match on Raw, then it would be even more likely that he comes back Monday.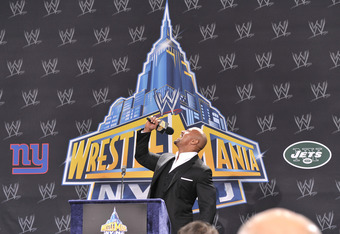 Michael N. Todaro/Getty Images
Many have voiced pros and cons of a match between Lesnar and either Cena or The Rock. While both men can be viable opponents, only time will tell who will get the crack at Lesnar. 
Cena could certainly use Lesnar as a way to build himself back up after losing to The Rock on Sunday.
There is no certainty that Lesnar will even be on Raw, but considering his new contract, it would seem logical that the WWE would introduce him in a big way. The post-WrestleMania Raw is certainly a stage that seems worthy of Lesnar's return.