New York Yankees: What Matt Cain's Extension Means for the Bombers
April 2, 2012

Christian Petersen/Getty Images
Earlier this afternoon, Matt Cain signed a five-year extension with the San Francisco Giants worth $112.5 million with an option for a sixth year. It is the largest contract ever given to a right-handed pitcher.
Even though the Yankees are not currently in the market for a starting pitcher, this deal could have an impact on the Bombers' pursuit of other free agent starters next offseason.
Before today, there were three front-line starters slated to hit free agency after the 2012 season: Matt Cain, Zack Greinke and Cole Hamels. Now that Matt Cain is off the market, there are two. Simple supply-and-demand dictates that, with a decreased supply of quality starting pitchers on the market, the price of signing either of the remaining starters will go up.
Also, one has to think that the minimum contract Hamels would even discuss now is the same $112.5 million that Cain just signed for, and realistically, he will probably sign for higher.
Lefties have historically signed for more than righties (Johan Santana, CC Sabathia and Cliff Lee have all signed for more than $112.5), so Hamels has that going for him over Cain.
Cain also re-upped with the Giants when they were the only bidder. When Hamels hits free agency and the Yankees are trying to sign him, they'll almost certainly have to bid against Magic Johnson's Los Angeles Dodgers, and perhaps the Chicago Cubs and Texas Rangers as well. That will drive up the price.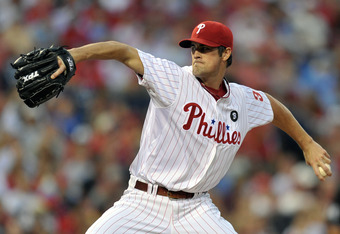 Drew Hallowell/Getty Images
Hamels also has won a World Series MVP Award.
Zack Greinke will also ask for a contract in the range of Cain's, if not higher, since they are about the same age, has a Cy Young Award (unlike Cain) and will field offers from similar teams as Hamels.
It is still unknown whether or not the Yankees will be in the market for Greinke or Hamels next offseason. If Phil Hughes, Ivan Nova and Michael Pineda pitch well, the Yankees could probably move forward with those three and CC Sabathia in their rotation—as well as either Hiroki Kuroda, Manny Banuelos or Dellin Betances—and stay away from a high-priced free agent. However, if they feel that they need more pitching, the price just got higher.
And keep this in mind: With the Yankees trying to get their payroll under $189 million before the 2014 season on order to avoid a massive luxury tax, even an extra couple million dollars per year for a free agent like Zack Greinke or Cole Hamels could push them out of the race for either.