Nike NFL Jerseys: Top Teams That Nike Must Target for Makeovers
April 2, 2012

Al Messerschmidt/Getty Images
April 1st brought with it a changing of the guard in the National Football League, as after a decade as the NFL's apparel manufacturer, Reebok has given way to Nike, who will begin a five-year run of their own as the league's apparel provider when they release new uniforms for all 32 teams on Tuesday.
It's highly unlikely in a league as stoic as the NFL that we'll see the sort of drastic changes that made the rounds on the Internet a few months back, when fake renderings of the new Nike jerseys were published. For some NFL teams, though, a makeover might not be such a bad idea, as these teams' uniforms are either dated, ugly or a double-whammy combination of both.
Arizona Cardinals
The Arizona Cardinals are the oldest professional football team still in existence, tracing their roots back to the late 19th century. Although the team updated their logo and colors in 2005, it's still rather difficult to be intimidated on the gridiron by the savage beast that is a cardinal, even if the new logo is meant to demonstrate a "tougher bird."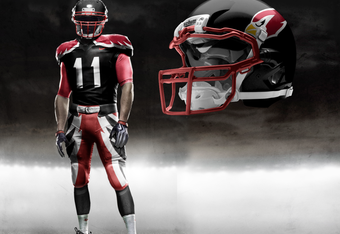 I'll freely admit that I'm not a huge fan of the "feathered" look on the pants and shoulders of the "fake" Cardinals jersey that found its way onto the web, but the black helmets would be a huge improvement over the present headgear that is arguably the ugliest in the National Football League.
Indianapolis Colts
The Indianapolis Colts are an iconic NFL franchise going back to their days in Baltimore, when such legends as quarterback Johnny Unitas, wide receiver Raymond Berry and offensive tackle Art Donovan helped propel the Colts to three NFL championships, including a victory in Super Bowl V.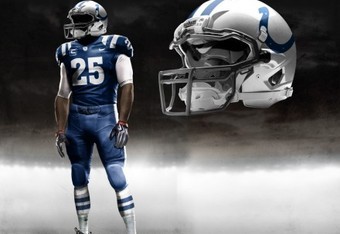 Unfortunately, the Colts' uniforms have changed very little over that time and are looking a bit on the dated side, so while a complete overhaul isn't necessary, Indy's uniforms could use a little 21st-century update.
Washington Redskins
Since 1932, the Washington Redskins have been taking the field in the nation's capital. Although in their 80-year history the uniforms have undergone a number of changes, the helmets have been more or less the same since 1972, when the current "Indian head" logo made its debut.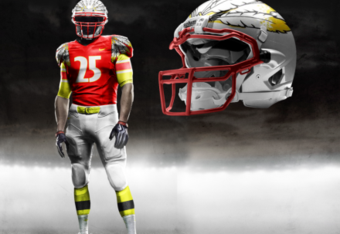 That logo and the team name "Redskins" has drawn fire from Native American groups for being racist, and while a change in logo such as the one pictured won't do anything to remedy the latter, it would certainly be a step in the right direction regarding the former.