NHL Free Agency 2012: Would Zach Parise Be a Good Fit for the Minnesota Wild?
April 2, 2012

Nick Laham/Getty Images
With just three games left in the season, Zach Parise' New Jersey Devils are headed to the playoffs. But while the postseason remains as the center of focus for every Devil, the end of the season has some negativity to it as well.
The Devils will play their best in the playoffs, but win or lose, eventually, the season ends. When that happens, their captain Zach Parise will be looking at unrestricted free agency, and it's unclear what happens at that point.
What is clear though, is that Parise will be receiving calls from at least a few teams inquiring about his talents. Perhaps more than any other team, the Minnesota Wild come up as a possible destination. It's been speculated for a while, and I even explored the topic briefly a few months ago.
It's not hard to see why Parise might fit in well in Minnesota. His ties to the city have lasted his entire life. He was born in Minneapolis to a father, J.P., who was assistant coach of the Minnesota North Stars. J.P. had previously played for the North Stars. And Zach played for the prestigious Shattuck-Saint Mary's team (which his father coached). 
The point is, the guy has a lot of roots in the city. He even recently bought a house in Orono. According to an article late last year by Kent Youngblood of the Minnesota Star Tribune, Parise said "it was great to get home to Minnesota, even for just one game." If I was a fan of the Wild, statements like that would certainly get my hopes up.
And Minnesota would love to have him. The Wild have a huge fanbase. After years of selling out every home game, the attendance dropped from 102.8 percent capacity to 99.7 percent last season, and reaching a low of 98.1 percent this season. Given a star of Parise' caliber, those numbers would surely jump back up into the theoretically-impossible area.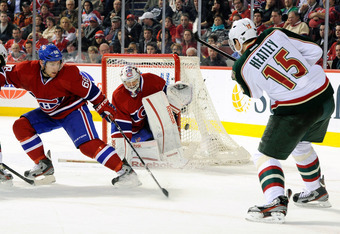 Richard Wolowicz/Getty Images
But the question isn't whether Parise would fit in with the city; of course he would. The question is whether he would fit in with the team, and that's a much murkier subject.
The Wild do have their share of talented players, though you wouldn't necessarily look at it from their stat sheets. Currently, the Wild have three players with more than 40 points: Dany Heatley, Kyle Brodziak and Mikko Koivu.
Heatley is the most talented offensively, but his best days are far behind him. While he's still capable of a 30-goal season, the hopes of his 40- to 50-goal campaigns seems outlandish. Still though, Parise is already hooked up with one former Thrasher-star to form a dominating duo—who's to say he doesn't have another one in him?
Heatley is also listed as a left wing, the same as Parise' natural position. A change is possible, but not necessarily beneficial. So that means that Parise may more be looking at a line of himself and Devin Setoguchi centered by Mikko Koivu. He could also make a scary-good two-way line with Koivu and Cal Clutterbuck.
There's definitely some dropoff in supporting cast, though. Parise would need to be a much more central figure in the team's offense. I'm not saying he's not up to the task, but it would be an undertaking.
On the other hand, Niklas Backstrom is the face of a goaltending corps much more suited for the long term than the Devils'. Backup Josh Harding is a UFA after this season, but both Backstrom and promising prospect Matt Hackett are both on the books through 2013.
With all that said, it may not be enough to lure Parise to his hometown. Parise has said that he's more interested in winning than anything else, and while Parise could transform the Wild into a playoff team, he'd have a much better chance at taking a playoff team and putting them over the edge.
The New Jersey Devils have had an impressive season, and may have shown Parise they have what it takes to win. It may also depend on how the Devils fare in the playoffs. Either way though, unless there are other significant personnel changes, there's no reason to think he'd have a better chance at playoff success in Minnesota.
Should Parise leave, he'd be much better suited to taking on a first-line role with a top-tier team. Odds are, no matter how good a team already is, if Parise wants to play for them, and can be reasonable price-wise, they'll be happy to have him.
So even if the Wild make a play for their native son—and odds are, they will—don't expect Parise to automatically spring at the opportunity to go home. More likely than not, he'll hold out for a team with a brighter future.