Breaking Down What Mario Manningham, Randy Moss Add to 49ers
April 2, 2012

Jim McIsaac/Getty Images
"We talk about an impact player, we talk about that player that you have to account for every down, we probably overuse it because there's really only a handful of guys; Randy Moss is one of those guys. The threat he has, on any given play, to kill you deep, every defense is most worried about. He's a true difference maker."
That's what Brian Billick said when introducing Moss as the 65th best player on NFL Films' top 100 players. Randy Moss may not be the same player he once was but he could still have a great impact on the game.
One way he can do this is with his long speed that he seems to still have, which enables him to be a vertical threat. Moss is said to have run a sub-4.4 40 when working out for the New Orleans Saints earlier this offseason prior to signing with the San Francisco 49ers. 
Speaking of a vertical threat, it is what defenses base their coverage shells around. They have to be able to identify the potential vertical threats before each snap and figure out how to deal with them while also keeping in mind that there is the possibility of a run play being called. Moss makes this even more difficult because he is an elite talent with great speed and dazzling ability. 
Because of his home run ability that Brian Billick alluded to, he forces defenses to force their attention him by rolling their coverage in effort of finding forms of bracket (form of double) coverage, whether it be a natural one like Cover 2 or Cover 4—both of which have two high safety shells—or through brackets developed that take away the inside and outside of Moss or underneath and over the top.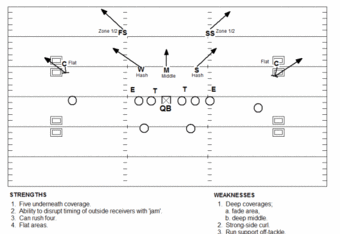 With Moss drawing attention to himself when running routes, he does two things for the rest of his teammates: create more space for other receivers to run to and simplify reads for the quarterback.
One of the receivers that Moss will be creating space for by taking attention away from him is new acquisition Mario Manningham. Manningham came over from Super Bowl champions New York Giants where he also got a lot of space to work with because of Hakeem Nicks opposite of him and he served as essentially a No. 3 receiver despite playing a lot of his snaps on the outside.
Manningham has always been a talented pass catcher that runs good routes and even though he's made a few big catches in his career, most notably a 38 yard catch down the left sideline against the New England Patriots in the Super Bowl, he's had concentration lapses.
The reason for his tendency to drop passes is because he does not always catch passes cleanly. An example of this was seen in Week 14 against the Dallas Cowboys on the final drive when Manningham dropped a would-be touchdown on the final drive of the fourth quarter.
After beating cornerback Terrance Newman, who was playing a "soft" flat assignment in Cover 2, at the line of scrimmage, he got down the sideline in the pocket of the coverage. The Cowboys safety was late rotating over, which created a grand opportunity for Manningham to make a catch that would have given the Giants the lead. 
However, instead of snatching it in the air and cleanly catching it with his hands, he let it hit his arms and tried to trap it into his body.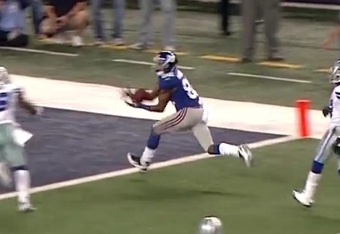 Another issue with this drop is that he did not look the ball all the way through, as he's been taught to do since he first started playing.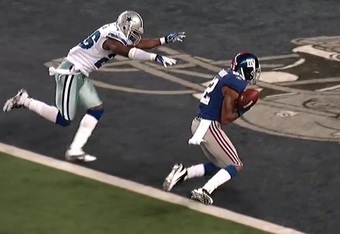 While he does sometimes have big drops that make you question his talent, Manningham has shown in the past to also make big plays and overall be a quality player. As stated, he is able to separate when breaking off his routes and should serve as a good complement to Moss and possibly Michael Crabtree.
The 49ers receiving core was a big question mark going into the offseason as they needed to find playmakers at the position to be able to win one on one matchups instead of relying heavily on pre-snap motions to camouflage the weakness. I still expect them to do this because it is what Jim Harbaugh has done for many years now with his offenses, but they have a better chance of making more plays now with Moss and Manningham on the roster.