San Francisco Giants: 5 Bold Predictions for the Giants' 2012 Season
April 1, 2012

Ezra Shaw/Getty Images
In just a few short days, Giants baseball is back. A welcome fresh start that closes the books on a nightmare 2011 season. Hoping that the injury bug infects someone else's clubhouse this season, the Giants aim to get back on track for another title run. With the occurrence of these five predictions, the Arizona Diamondbacks will have a hard time defending the NL West from a Giant rebound.
Bold Prediction No. 1-
Pablo Sandoval will reach the 30 HR plateau for the first time.
Can you guess how many Giants have hit 30 or more home runs in a season since Jeff Kent in 2002? The answer is Barry Bonds, and that's it. In fact, Ray Durham's 26 HR season in 2006, and Aubrey Huff's 26 HR season in 2010 are the most any Giant has hit in the last nine years who's name wasn't Bonds. Enter Pablo Sandoval.
Last April, Sandoval injured his right wrist sliding into a base. It turned out he had broken his hamate bone, which not only requires surgery and a four to six week recovery time, but has been known to zap a hitters power for up to 18 months. Instead of experiencing diminished power, Sandoval came back in mid-June and hit 18 HR over the final 96 games of the season.
Without any further health issues, "The Panda" will finish the season with 30-35 HR en route to an All-Star caliber season. A triple slash line of .320/.390/.560 with 30 HR and 100 RBI could be in line for the rising star.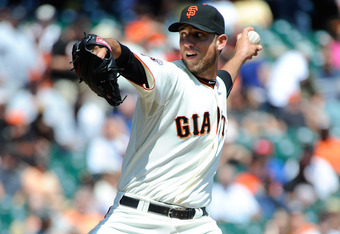 Thearon W. Henderson/Getty Images
Bold Prediction No. 2-
Madison Bumgarner finishes top 5 in the NL CY voting.
Lady Luck was not kind to "Mad Bum" in 2011. After a bumpy first four starts in April, Bumgarner settled in and strung together 10 consecutive Quality Starts. In those 66.2 IP, his ERA was just 2.03. The start that followed was an inter-league game against the Twins at AT&T Park, when an almost mathematically impossible first inning occurred. He surrendered eight consecutive hits, all of which missed defenders gloves by mere inches. Forced to leave the game after retiring just one batter, he ended up allowing eight ER on the day.
A start like this can drastically change your season stats. Throw away that outing against Minnesota, and his 2011 ERA drops from 3.21 to 2.86. His WHIP from 1.24 to 1.17. Combined with his unlucky .322 BABIP (batting avg. on balls in play), it's safe to say Madison is due for an even better season this year. After ending the second half of last season with a 2.52 ERA with strikeouts trending up, and walks trending down, it could in fact be Bumgarner who finishes with the best season among the Giants talented young starters.
Bold Prediction No. 3-
Ezra Shaw/Getty Images
Brandon Crawford's hitting ability improves dramatically.
Just last season, Keith Law, a highly respected baseball scout and writer, called Brandon Crawford "A poor man's Adam Everett." If you ever saw Everett hit, you would be insulted for Brandon. Poor hitting mechanics caused Crawford to be considered nothing more than a defensive whiz, destined to bat eighth for a team willing to sacrifice offense for defense.
During the offseason, the Giants worked on finding a way to increase his bat speed. The change reportedly included Crawford keeping his bat rested on his shoulder until the pitcher releases the pitch, allowing for his hands being in a much better position to get after the ball quickly. From what he showed last season, including a big grand slam in Milwaukee for his first Major League hit, he seems to have more potential with the bat than he gets credit for. A solid year at the plate for Crawford could have the Giants in line for a pleasant surprise.
Bold Prediction No. 4-
Gary Brown gets an early call up to the Big Leagues this summer.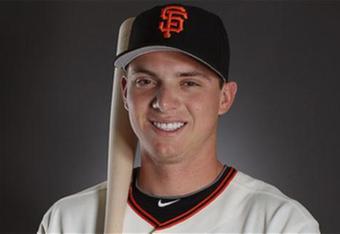 Being the Giants No. 1 organizational prospect, Gary Brown is loaded with potential. It was rumored the New York Mets had their hearts set on Brown during the Carlos Beltran trade talks last July but settled for pitcher Zack Wheeler. Brown has elite speed, and plays the kind of defense that saves a significant amounts of runs per season in CF.
Brown dominated at High-A San Jose in 2011, hitting .336 with 14 HR, 53 SB, 13 3B, and 80 RBI, while getting on base at a .407 clip. Highlights thus far include the 2011 California League Rookie of the Year award, as well as being selected to the 2011 All-Star Futures Game.
If Angel Pagan's slow Spring Training continues into the regular season, the Giants may be willing to give Brown the call earlier rather than later this season. After waiting two whole months to bring Buster Posey up to help in 2010, the Giants may decide Brown's elite speed at the top of the lineup could really help jump start the offense if scoring hasn't picked up from last year.
Bold Prediction No. 5-
Barry Zito is released during the season.
The Giants got themselves into this mess back in 2007, and have had to tough it out ever since, watching their $126 million investment become the least important player on the 25-man roster. After becoming the highest paid, non-injured player in Major League history to be left off a World Series roster in 2010, the desire to give him the boot has been overwhelming. However, due to the amount of 100 percent guaranteed money still owed to him, and his full no-trade clause, the team has had no choice but to keep him around.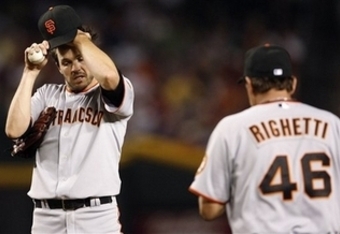 Last season a similar problem existed with Aaron Rowand, but the end of his contract was close enough to warrant paying him his final $13.6 mil. to play elsewhere. Zito is still on the books for the 2012 and 2013 seasons, making $19 mil. and $20 mil. respectively. To start this season, Zito will be relied upon to eat some innings. With Ryan Vogelsong and Eric Surkamp starting the season on the DL, the Giants have little choice. But when both pitchers get healthy, Zito might then become a burden if he isn't pitching well.
After he's eaten some innings, possibly by late summer, the same situation might arise as with Rowand last season, where the Giants feel his remaining salary is now cheap enough to be swallowed. It may be a bit early to predict the Giants cutting ties with their salary anchor of a SP, but if Zito is unbearably bad as usual, and they don't want to spend the roster spot, its now in the realm of possibility.
2012 brings high hopes for Giants fans everywhere, and even a couple of these bold predictions coming true would spell success for San Francisco baseball.