Fantasy Baseball: Fixing a Flawed Ideal About Head-to-Head
March 29, 2012

Kevork Djansezian/Getty Images
**Please note this article is only intended for the standard Head-to-Head Each Category or Most Categories league with ten standard scoring categories**   
To paraphrase a line from Jonah Hill's character in Moneyball, Peter Brand, "One shouldn't be looking to buy players, one should look to buy wins."
What Jonah Hill taught Brad Pitt in Moneyball can easily be applied to fantasy baseball as well. One shouldn't just look to buy (select) the best players—one should look to select the players that will help them win. 
But before we get into how to do select those players, let's first describe how to win:
In a Head-to-Head Each Category league, the winner of the week is determined by the player who has won the most of ten scoring categories while losing the least, with the minimum number of categories needed to win is six. In a Most Categories league it is very similar, with the only difference showing up in the standings, as teams are awarded a win/tie/loss for the entire week, not every category, with six being the minimum number of categories required to win. 
Did you notice any similarity in the victor of each of those leagues? Well if you didn't, it is that the winner needed to win at least six categories a week. Six, not ten. 
This is where an incredibly flawed concept appears in fantasy baseball:
That you must try and win every single category.
The most obvious response to this belief is why? Why should I try to win every category every week?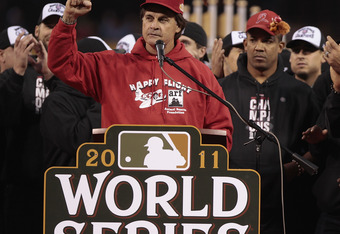 Whitney Curtis/Getty Images
Simply, you shouldn't. There is no reason to strive to win every category when you only need to win six, preferably seven—not ten. There is also no reason to attempt to do well in every category. There is consolation prize for losing strikeouts 100 to 99, and there is no penalty for losing 100-1. 
In the end, one player wins the category and we move on to the next. 
So here are some simple steps to follow to in order to maximize your chances of winning that magic number of six categories:
Pick Your Categories
This one is relatively simple, but before you draft players, you must know which categories you want to win. Having a plan is essential for this to work. The ones I usually select are runs, home runs, runs batted in (RBI), stolen bases, saves, earned runs against (ERA) and walks plus hits per inning pitched (WHIP). Thus leaving out the categories: batting average, strikeouts and wins.
The reason for the exclusion of wins and batting average is simple. For wins, it is that as much as they may try, pitchers don't have full control over whether they win or lose. In addition to that, wins can be volatile with a pitcher winning multiple games one week and losing them all the next, while maintaining little control over the matter.
For batting average, it is also extremely volatile, but the main reason is that it allows you to draft a much broader range of players.
As an example, if you were to look at Mark Reynolds' projected stats, and you were including batting average into your decision, his projected .218 doesn't inspire much confidence. But looking at him with the exclusion of batting average gives us a player projected to have 83 runs, 35 home runs, 86 RBI and 9 stolen bases. Not bad for someone who is usually available at the 142nd pick in ESPN drafts and offers position versatility.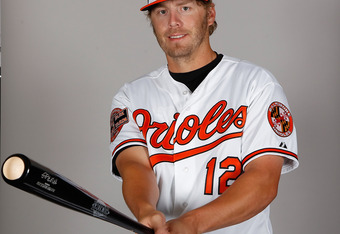 J. Meric/Getty Images
This is an example of addition by subtraction. Eliminating a category to dominate three others. Sounds like a fair trade off to me.
Make sure as you draft to only focus on the categories you have selected, and to completely exclude the others from your decision making. Remember, the goal is a roster stacked in six or seven categories—not one that's mediocre in all ten.  
No Starting Pitchers!
Wait, seriously? You want me to pass on Justin Verlander? Yes. But not because he is not a good fantasy player. He is excellent—delivering exceptional performance in four of the five pitching categories. However, the value of taking a pitcher such as Verlander high in the draft doesn't match up to his relief pitcher counterparts.
Let's compare Verlander with a solid, yet unspectacular closer, Kyle Farnsworth.
Verlander's stats last year: 24 W, 250 K, 0 SV, 2.40 ERA, 0.92 WHIP
Farnsworth's stats last year: 5 W, 51 K, 25 SV, 2.18 ERA, 0.99 WHIP
Now, if we were to pit Verlander against Farnsworth in a fantasy baseball matchup, Verlander would sneak out with the win. Farnsworth would easily win SV and ERA, while Verlander would win W and K without breaking a sweat. But WHIP, would be decided by a mere 0.07. That is the difference between Verlander and Farnsworth from a fantasy perspective. In the end Verlander wins, but barely, and this should come as a big surprise.
For one, Verlander is a reigning MVP and more importantly, is taken within the top 15 picks in every fantasy draft. Farnsworth, on the other hand, boasts an average draft position of 167. That's over 150 picks after Verlander, and the only stat holding back Farnsworth from Verlander is a 0.07 WHIP. Maybe it's just me, but a 0.07 WHIP differential doesn't justify a 150 draft position differential. This is not meant to say that elite starting pitchers are not good—it's meant to point out how they are overvalued in the draft and are taken at the expense of elite hitters, which are much harder to find than good closers.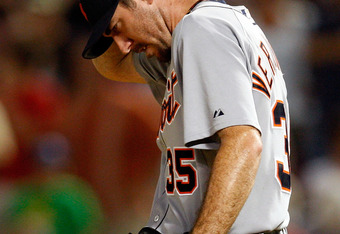 Ronald Martinez/Getty Images
Remember, you must go back to the categories you have selected to win. Since I don't care about wins or strikeouts, Farnsworth is the more valuable player. Not the better player, but a better asset to my team. While this is just one example, the point is heightened in starting pitchers later in the draft.
Most of the starting pitchers after the elite are good at one or two categories and brutal at the others. As pointed out earlier, great pitchers are a nice commodity to have, but will come at the expense of elite batters. Additionally, teams must have more than one pitcher, so the strong ERA and WHIP built up by a Verlander will be destroyed by a Wandy Rodriguez. If you just take relief pitchers, you will be able to build up a respectable ERA and WHIP while dominating in saves, but more importantly, you will be getting them later in the draft.    
So when your friends think they're being cool drafting Clayton Kershaw in the second round, just smile and take the best hitter available. Remember, they can have wins and strikeouts, and can think they are on the fast track to winning four categories, but they're setting themselves up to only win two. 
Also take a category-fixer of sorts, such as Mike Adams, who is available late in drafts and will offset a closer with a high ERA and WHIP, with his exceptionally low totals in both. He may never wow you with high strikeouts or wins, but he will regulate your team's ERA and WHIP.  
Throw out Batting Average
As mentioned earlier, if you do not choose to include a category, don't even look at it when selecting players. Players such as Mark Reynolds and J.P. Arencibia who have great power numbers but putrid averages, suddenly become viable players. So what if your average is .250? Having a .270 won't help you any more when your opponents have averages of .275 or higher. If your'e not going to win a category, do not try to win that category. Focus on the ones you want to win. 
Remember, eliminating one category, especially batting average, allows you to focus on dominating other the four batter categories. If you only need to win six categories, winning four and losing one seems like a fair trade off.
Conclusion
In the simplest way possible, decide what categories you want to win and make sure that you win them. If you're not going to win a category, make sure you exclude it when deciding between players and vice versa when drafting categories you do want. If you only are trying to win six categories, don't try to win ten.
There are no medals in head-to-head fantasy for mediocrity. There are awards for championships, and winning the majority of categories is the first step. Know what you want to win, and make sure you win. Let your friends dabble in mediocrity in all categories, while we will be dominating in six.