Virginia Tech's 2012 Football Schedule: Opponents, History, and Bold Predictions
June 25, 2012

Geoff Burke/Getty Images
Amazingly, the 2012 college football season will be here in nine weeks.  For the Virginia Tech Hokies, a typical offseason was shaken up when lightning forced the cancellation of their annual spring game.  Without the game, several key position battles remain unresolved until the fall. 
While Blacksburg has been lacking excitement lately—aside from some successful recruiting—the rest of the college football scene has been anything but. NCAA violations, conference expansion rumors (does anyone know how many teams are still in the Big East this year?), player/coaching scandals, and recently an agreed upon four-team playoff system have dominated the headlines. 
Virginia Tech has steered clear from any negative attention and the team is poised to make another Atlantic Coast Conference championship run.  While only three starters return on offense, defensive coordinator Bud Foster will have the benefit of eight returning defenders.
Their first fall practice is August 7, and even though the roster is far from being set in stone, the few things we do know is who, when, and where the Hokies will play during the 2012 regular season.   
Let's breakdown Virginia Tech's schedule, analyze the opponents and their history, and make some bold predictions.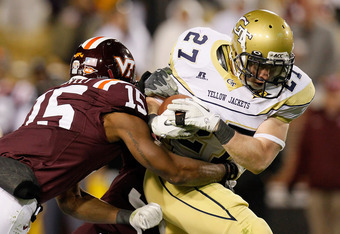 Kevin C. Cox/Getty Images
Monday, Sept. 3: Georgia Tech
A huge Labor Day night divisional matchup kicks off the season.  Fun fact: the winner of this game since 2005 has represented the Coastal Division in the ACC Championship.  Not-so-fun fact: The Yellow Jackets have gained a combined 985 rushing yards in the past three games against the Hokies; they have only one victory in that time to show for it though.
Georgia Tech's aforementioned running game ranked second overall in the FBS with an average of 316.5 yards per game last year and should be just as good this fall. 
Quarterback Tevin Washington—who got his first game experience when former Yellow Jacket Johsua Nesbitt broke his arm against the Hokies in 2010—is back under center and leading the triple option attack.   Orwin Smith and David Sims will spearhead the GT running game along with Washington.  Wide receiver Stephen Hill (5 TDs, 820 yards receiving in 2011) has moved on to the NFL so the Virginia Tech defense can expect an even heavier dose from their running game.
Rod Sweeting, Isaiah Johnson and Jeremiah Attaochu represent the veteran leadership of the Yellow Jacket defense.   Unfortunately they will be without second team All-ACC inside linebacker Julian Burnett, whose football career might be over after sustaining a neck injury in their bowl game against Utah.
Prediction: Virginia Tech, 32—20 
Instead of only one week to prepare for the Yellow Jackets' triple option, Virginia Tech defensive coordinator Bud Foster will have a whole summer to fine tune his approach.  Georgia Tech will have the same benefit of course and will need that time to figure out how to stop Logan Thomas, who accounted for five touchdowns in their last game.  Even the Atlanta Journal-Constitution's Mark Bradley admitted he was going out on a limb when he picked Georgia Tech to not only win this game, but the Coastal division. 
Saturday, Sept. 8: Austin Peay
While researching the pronunciation—it's "P" as in the letter—of this school, you might also find out that their mascot is the Governors.  Politics, football, and chanting "Let's go, Peay!" do not go well together. 
Austin Peay represents Virginia Tech's only FCS (formerly I-AA) opponent of the season.  Hokie Athletic Director Jim Weaver most likely scheduled them by throwing darts at a U.S. map and having one land on this unsuspecting Tennessee college town. 
Prediction: Virginia Tech, 44—7 

The Governors play in the Ohio Valley Conference and have not won the league since 1977.  This should not be a tough matchup for the Hokies, although the last time Virginia Tech played an FCS school on a short week, they lost to JMU five days after dropping a Labor Day night contest with Boise State.  Lightning will not strike twice as the Hokies should roll.
Saturday, Sept. 15: @ Pittsburgh
The Pittsburgh Panthers and Virginia Tech Hokies were Big East rivals for 13 years before the Hokies joined the ACC in 2004.  This year's game will act as a primer now that Pitt is coming back to the ACC in 2014 pending their lawsuit against the Big East Conference to leave the league as early as next year.   
The Panthers welcome the Hokies back to Heinz Field for the first time since 2003.  Luckily for Virginia Tech, Marcus Vick (game-ending INT; 2 total) and Larry Fitzgerald (8 receptions for 108 yards, 1 TD) won't be playing this time. Quarterback Tino Sunseri (28 TDs, 5302 yards passing) will be learning his third offensive system in as many years.  Ray Graham, who had nine TDs and almost 1000 yards in eight games before tearing his ACL, will return to the backfield. 
The Pitt defense ranked 38th in the nation last year in points against and will have several key members back including junior safeties Jason Hendricks and Jarred Holley (34 career starts, 9 INTs), defensive tackle Aaron Donald, and linebackers Dan Mason and Eric Williams.
Prediction: Virginia Tech, 27—21 
The Hokies historically have struggled at Heinz Field—they've lost their last three games in the Steel City—and will probably be slow coming out of the gates in this showdown.  They are more talented than the Panthers so it will be Bud Foster's defense that should make the difference in the fourth quarter.
Saturday, Sept. 22: Bowling Green  
The Falcons of the MAC travel to Blacksburg for the first time in 19 years.  The most exciting and interesting news about this game—dubbed Military Appreciation Day—is that the Hokies will be wearing special camouflaged jerseys and helmets.  They will also be promoting a fundraiserfor the Wounded Warrior Project.   
Offensively, Bowling Green has a terrific quarterback in Matt Schilz who had a very good 2011 season, throwing for over 3000 yards with a 28:13 TD-to-INT ratio and a 137.2 passer rating.   Shilz will be dealing with a running-back-by-committee approach and will also have young wide receivers to get in-sync with.
Senior All-MAC linebacker Dwayne Woods leads the Falcons' defense which runs an unorthodox 4-2-5 scheme.  
Prediction:  Virginia Tech, 33—10 
Offensively and defensively Bowling Green has quality players, but compared to the Hokies, this is a mismatch.  
Saturday, Sept. 29: vs. Cincinnati
 This game is being played at FedEx Field, home of the Washington Redskins and it seems that everyone is asking the same question: Why?  They are marketing this game as the "Duel in the District." Seriously?  For transplant Hokie fans in the DC area, this will feel like a home game, but it will understandably lack the excitement of the 2010 contest between Boise State and the Hokies, also at FedEx Field.  
Barring a total collapse of the top 25 football programs by Week 5, Cincinnati and Virginia Tech will not be a primetime matchup between highly ranked opponents. Surprisingly, the 2008 Orange Bowl against Cincinnati is Virginia Tech's only BCS victory.  No wonder this game is receiving low interest.
Cincinnati will have two weeks to prepare for this game and they will need it.  They lost quarterback Zach Collaros and his 67 career touchdowns, running back and Big East Offensive Player of the Year  Isaiah Pead, and Big East Co-Defensive Player of the Year Derek Wolfe.  Junior quarterback Munchie Legaux (his real name is Benton Shannon Legaux, so I don't know why he's punishing himself) is the new starting quarterback and does have plenty of game experience from last year filling in for the injured Collaros. 
Legaux was also rated as the No. 12 dual-threat quarterback nationally by Rivals.com coming out of high school, so this kid is dangerous.  Their defense will be formidable as standouts Drew Frey, Walter Stewart, and Camerron Cheatham have 96 combined starts.
Prediction: Virginia Tech, 29—17 
Cincinnati's veteran defense will initially slow down the Hokies, but should tire down the stretch as their offense will not be able to keep them off the field long enough.  The Hokies leave FedEx Field winners finally, after losing to Boise State two years ago and to USC in 2004.  Oh, and by the way, last year Cincinnati beat Austin Peay (the Hokies' Week 2 opponent) 72—10. 
Saturday, Oct. 6: @ North Carolina
The first of seven conference games in a row to close out the regular season. 
The Tar Heels were seemingly dominated, but only lost by three points last November.  UNC was under heavy scrutiny in the wake of NCAA violations and the firing of their head coach during the 2011 summer.  Now Larry Fedora is tasked with changing the culture and national perception in Chapel Hill. 
Fedora brings a prolific spread offense with him that he developed as the offensive coordinator of Florida, Oklahoma State and most recently as head coach of Southern Miss.  Junior quarterback Bryn Renner (3000 yards passing, 26 touchdowns in 2011) will be familiar calling plays in his system since he played in a spread in high school.
Running back Giovani Bernard ran for 1250 yards and 13 TDs as a freshman and should be even better this year due to the added benefit of a stout offensive line.  Erik Highsmith will be the top receiver to look out for and will be Renner's safety valve.   
On defense, they lost two playmakers in defensive end Quinton Coples and linebacker Zach Brown to the NFL, but have enough talent to remain formidable.  Seniors Sylvester Williams, Kevin Reddick, and Gene Robinson lead this year's team.
Even though the Tar Heels are a talented group on both sides of the ball, they will be the USC Trojans of the ACC in 2012, since they are ineligible for postseason activity due to the 2011 sanctions.
Prediction: Virginia Tech, 24—20 
The Tar Heels lost too many key defenders and will not be able to answer Logan Thomas, who had three scores in last year's matchup.  The Hokies have not lost in Chapel Hill since 1938, granted they've only played 12 times since then.  Virginia Tech wins a squeaker. 
Saturday, Oct. 13: Duke
Is this the year that the pesky Blue Devils upset one of the ACC's top dogs?  Duke will have seven starters on offense and nine on defense returning from last year.  They play tough, but are constantly coming up short against the likes of the Hokies and the rest of the conference.  Through four years of the David Cutcliffe era, Duke has yet to qualify for bowl eligibility.
Virginia Tech has won the last 11 contests, and despite the presence of veteran Blue Devil quarterback Sean Renfree, they will be heavily favored to make it 12 in-a-row.   
Senior wide receiver Conner Vernon will become Duke's all-time leader in receptions and receiving yards before the year is over.   
Brandon Braxton is a converted wide-receiver-to-safety and will be a name worth watching this fall. 
Prediction: Virginia Tech, 26—13 
It's Duke.  It's homecoming.  The Blue Devils will come up short once again.
Saturday, Oct. 20: @ Clemson
Two lop-sided losses to the same opponent in one season is a rare "feat" for any college football program.  The Tigers embarrassed the Hokies in 2011 and this year both teams will have 11 days to strategize before another showdown.  
For Clemson, they have had a rollercoaster of an offseason.  Off the field problems for their star athletes will not outweigh the fact that they're recruiting well and re-signed head coach Dabo Swinney to a long-term multi-million dollar contract that Clemson haters will laugh at.  Below is the best Dabo-contract joke I heard, courtesy of The Key Play's twitter feed:
@DurrantRovenelli Over the lifetime of his contract Dabo will earn $167,142.86 per point scored on Clemson in the Orange Bowl. 
Speedy wide receiver and All-American Sammy Watkins (1200+ yards receiving and 12 TDs, as a freshman!) was arrested for marijuana possession and he will probably be suspended for a game or two.  Running back Mike Bellamy, another freshman, was ruled academically ineligible and kicked off the team.  Luckily, the Tigers will still have the services of Andre Ellington and his 1100-rushing yards and 11 TDs from last year.
Like Virginia Tech, Clemson will be mostly inexperienced on the offensive line except for their center Dalton Freeman who accounts for 36 out of 46 starts.  Defensive ends Malliciah Goodman and Corey Crawford are serious matchup problems and could cause many headaches for the Hokie offense. 
Prediction: Clemson, 27—20 
Despite crushing Virginia Tech twice last year, Clemson is still a team that makes head-scratching performances because no one knows which team is going to show up (i.e. as a reminder, following their ACC Championship win, they were blown out 70-33 in their Orange Bowl loss to West Virginia).  However, this game is in Death Valley and they are stacked with talent all over their roster.  Virginia Tech should be undefeated coming into this game and will have a lofty top-10 ranking.  This is unfortunately the time in their schedule when they are peaking and hit a bump in the road.    
Thursday, Nov. 1: @ Miami
Thursday Night Special Part I.  Last year's showdown was one of the most memorable and competitive ACC games of the season as Virginia Tech won a shootout, 38-35.  This clash is always circled on everyone's calendar as a must-see rivalry game and the Hokies have won seven of the last nine in the series.  
Stephen Morris and Ryan "No, Not That Ryan" Williams will battle it out to be the Hurricanes' starting quarterback.  No matter who emerges, he will not be getting a lot of help from the receiver position.  The team's depth chart lists sophomores Philip Dorsett and Rashawn Scott as the current starters but they have just 15 career catches combined, although Scott suffered a season-ending injury after just six games.  
Running backs Mike James, Eduardo Clement and freshman phenom Duke James will vie for the starting spot that NFL rookie Lamar Miller leaves behind.  
2010 second team All-ACC senior safety Ray-Ray Armstrong, linebacker Denzel Perryman, and defensive end Anthony Chickillo anchor the Miami defense. 
Prediction: Virginia Tech, 30—20 
Although the recruiting classes seem to be getting a lot of the attention in Miami these days, they do not have a lot to show for it on the field.  This year's Miami team is up-and-coming and will be competitive no matter the opponent, but that will not be enough in this game.   
Thursday, Nov. 8: Florida State
Thursday Night Special Part II.  Eleven days of rest for the Seminoles who return nine starters on defense, and only one week for the Hokies before this clash of ACC powerhouses.  The Hokies have only won twice in the last 15 matchups with Florida State; however, they have made it two out of the last three. 
Florida State—stop me if you've heard this before—is a heavy favorite to win the ACC just like in 2011.  If they maintain a better focus than last year and can stay healthy, the Seminoles should thrive.  If Virginia Tech is on the verge of another 10-win season, this could be an ACC Championship game preview.
The Seminoles have a deep defensive line including four returning starters.  Both defensive ends, Brandon Jenkins (21.5 sacks in two seasons), and Bjoern Werner can and will wreak havoc on opposing quarterbacks and running backs.  Cornerbacks Greg Reid and Xavier Rhodes are arguably the best duo in the conference.  Safety Lamarcus Joyner led the team with four interceptions last season and was a 2011 All-ACC selection.  Both Reid and Joyner are also dangerous returning punts and kickoffs respectively.  While the defense has championship-caliber ability, the offense will need to rise to the occasion in order for Florida State to succeed.  
Quarterback E.J. Manuel has battled with injuries the past two years and has not had much help from the rushing attack or offensive line.  Running back Devonta Freeman is a small but shifty player who will lead the Seminole ground game.  Manuel's top three receiving targets from last year are back; Rashad Greene, Rodney Smith, and Kenny Shaw combined for over 1500 yards and 15 TDs. 
Prediction: Florida State, 23—17 
The fact that this is a night game in Lane Stadium where the Hokies are 8-2 in their last 10 games will be a huge advantage, but Florida State is too talented.  The skill positions and defense will carry this team a long way, and if the Seminoles can get improved play from their line, then they will be a national title contender once again.  This game has all the makings of defensive classic with the Seminoles likely coming out on top.  This could be round I between these ACC divisional favorites, with the ACC title game looming three weeks later. 
Saturday, Nov. 17: @ Boston College
The Hokies have beaten the Eagles four straight times including the 2008 ACC Championship, but have lost two out of their last three in Chestnut Hill.   Boston College's 4-8 (four losses by one score) record in 2011 was their first losing season since 1998.  This year's team will have to play better in order for head coach Frank Spaziani to keep his job.   Unfortunately for the Eagles, they might not have the players to make such an improvement. 
All of the skill positions return for an Eagles offense that ranked a putrid 112th in points scored in the FBS last season.  Chase Rettig will most likely start as quarterback this fall despite his four interceptions in the spring game and mediocre career stats (18 TDs and 18 INTs in two years).   
The 2010 ACC leading rusher and all-time leading rusher at Boston College, Montel Harris was granted a sixth year of eligibility thanks to a medical waiver, but on May 1, he was dismissed from the program due to repeated violation of team rules.  Roland Finch is the likely starting running back and although talented, he's no Montel Harris.  Veteran wide receivers Bobby Swigert and Colin Larmond provide Rettig with two quality go-to players.   
Replacing the top rated linebacker in the country in Luke Kuechly would be difficult for any football program, but at Boston College, they breed linebackers.  Mark Herzlich, Luke Kuechly and now the torch is passed to Kevin Pierre-Louis to be the next great Eagle linebacker.  Fellow linebacker Steele Devitto may have the cooler name, but Pierre-Louis finished second to Kuechly on the team in tackles, despite missing three games.
Prediction:  Virginia Tech, 25—13 
Virginia Tech's defense is really good and Boston College's offense is not, sometimes it's just that simple.  Playing at Chestnut Hill will be difficult but Virginia Tech should win what could be a sloppy game. 
Saturday, Nov 24: Virginia
Just when everyone thinks the Virginia football program is starting to turn a corner, Virginia Tech is there to humble them, winning their last eight contests.  Can the Hokies make it nine in a row?  
Former Alabama quarterback Phillip Sims has transferred to the University of Virginia and is currently seeking a waiver to allow him to play this fall.  Newly transferring student athletes normally have to sit out one season due to the new-transfer rule.  If allowed to play he will challenge Michael Rocco who guided the 2011 team to an 8-5 record and their first bowl appearance since 2007.
The offense returns seven starters and three come from the offensive line.  Tim Smith is the only returning starter at wide receiver.  Jack McGee and Colter Phillips will battle it out to be the next great Wahoo tight end.   The versatile Perry Jones is the Cavaliers best running back but they are loaded at the position.  Kevin Parks, who is a north-south runner despite his 5'8" 200 lb. stature, and Clifton Richardson will spell Perry in the backfield. 
The Cavaliers only return five starters on defense, but that does include three senior linebackers.  2011 All-ACC middle linebacker Steve Greer is joined by Ausar Walcott and LaRoy Reynolds.   Cornerback Chase Minnifield will be missed for his veteran leadership and playmaker ability. 
Prediction: Virginia Tech, 32—10
They say you can throw out all the stats for rivalry games, but overlooking eight straight victories is difficult to dismiss.  Head coach Mike London enters his third season and has been outscored 75-7 in two games against the Hokies.  Virginia Tech returns a better team and has the better defense.  The streak will get to nine (nine times, Bueller) and Virginia Tech will lock up the Coastal Division.