WWE: Triple H vs Shawn Michaels at WrestleMania 29; Match Will Be Announced Soon
March 26, 2012

Today, I reported exclusively on Wrestlezone.com that a Triple H vs Shawn Michaels WrestleMania 29 match is the leading plan as of now.
After speaking with sources, WZ has learned that WWE involved Shawn Michaels in the Hell in a Cell match between Triple H and The Undertaker with a tentative plan to set up HBK's involvement at WrestleMania 29.
When Shawn Michaels got injected in this Hell in a Cell match at WrestleMania 28, I was very much against it. I felt it was unneeded and to make it worthwhile it would need a payoff because surely if he a special referee, he will do something that upsets one of the participants of the match. I didn't think any payoff would happen and if one did, it would be done wrong.
All of that being said, WWE might have had a good plan all along.
I was against Shawn Michaels doing something that requires any kind of closure. I was against it out of fear that it would be done incorrectly. I was thinking to immediate, feeling that they would have Michaels come out of retirement for one night at possibly SummerSlam and that the whole set up wouldn't sell me.
From what I am learning, if we have a confrontation the night after WrestleMania 28 between Michaels and Triple H, the match they have at WrestleMania 29 will likely be Triple H's final match.
I am nervous about WWE wanting to get in the habit of making WrestleMania main event matches a year ahead of time with the possibility of injuries disrupting the marquee matches.
The Rock has stuntmen but Cena doesn't. However, Michaels and Triple H would be the perfect situation because Triple H is in a suit most of the year and unless a deer comes after Shawn Michaels, he isn't at risk of being injured.
If that's the case, Triple H versus Shawn Michaels with the New York City backdrop is the only way to go.
A year of anticipation and a 18 years of history. So many things would make sense in a dramatic storytelling aspect. New York City was the location of the famous "curtain call" incident in 1996. New York being what WWE is called in the wrestling business and what Triple H has become of one of the faces of, both as a performer and executive. Finally, WrestleMania, the only appropriate event for a one night return of Shawn Michaels and the end of Triple H's career in the ring.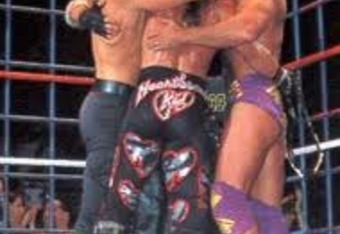 Here is how I see it going down.
Shawn Michaels stops the Hell in a Cell match due to Triple H being so badly beaten or maybe The Undertaker is getting set to do one final big spot to Triple H and Michaels stops it out to protect Triple H.
Triple H of course outraged, calls out Michaels and his ego the next night on RAW. Triple H says you just couldn't stay out of it. All of the times in the past weeks of The Undertaker repeatedly telling Triple H that Shawn Michaels is better than him boils up and comes in to the conversation.
One of the WrestleMania 29 main events is made.
Shawn Michaels is the one guy who should be the last one in the ring at WrestleMania with Triple H and Triple H is the only guy Shawn Michaels should come out of retirement for.