MLB Spring Training 2012: Blue Jays' Hot Start Will End with Division Title
March 23, 2012

Jonathan Ferrey/Getty Images
After starting spring training at 16-4, the Toronto Blue Jays will finally climb out of the shadow of the Boston Red Sox, New York Yankees and Tampa Bay Rays and win the American League East division.
The Blue Jays have had the talent to be a division winner for the last six years. However, they've been stuck in the extremely tough American League East division underneath the previous division winners: Boston, New York and Tampa Bay. 
In fact, they've had a winning record for five of those six years, but they've finished no higher than second place. 
This spring has seen the Blue Jays post an amazing plus-59 run differential because of 122 runs while only giving up 63. Those numbers crush the other AL East teams, as the closest to the Jays are the Yankees, who've scored 97 runs while allowing 88. 
The offense has been led by Jose Bautista. Bautista is the reigning American League home run champion, Hank Aaron Award and Silver Slugger Award winner from the last two years. 
This spring Bautista has been on fire, belting three home runs while driving in eight RBI in 10 games. He also has a solid .296 batting average with 27 hits in those 10 games. 
Because of this great spring from Bautista, it will result in the talented slugger having another year where he hits between 45-50 home runs, drives in between 100-120 RBI while hitting a solid .295 batting average.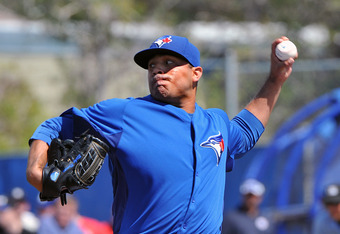 Al Messerschmidt/Getty Images
While Bautista has been carrying the offense, Ricky Romero looks ready to have one of his best seasons. In three starts and only nine innings, Romero has eight strikeouts while only giving up two hits and an ERA of 0.00. 
Romero is coming into this year after having a great 2011 season, winning 15 games and striking out 178 batters with a low 2.92 ERA. Romero had a career year in those numbers, in earned runs allowed (73) and hits allowed (176).
As he enters into his fourth year with the Blue Jays, he should see his numbers improve once again.
Bautista and Romero are just two players who will lead the Blue Jays to the top of the AL East. However, to go with those two leaders, Toronto will get a total team effort from the rest of their ballclub, who is having a tremendous spring.