Panthers Free Agency: Tolbert Is Good for Newton and Not Bad for Double Trouble
March 19, 2012

Ezra Shaw/Getty Images
The Panthers just signed FB Mike Tolbert to a 4-year deal and no one seems more excited about this signing than Tolbert himself. Panther fans, on the other hand, are confused by this signing and can't help but wonder what this signing means for the future of double trouble, DeAngelo Williams and Jonathan Stewart.
Although this signing confused me at first, I'm actually excited by it now.
As it stands, Tolbert is listed as a fullback under current Carolina's roster, not a running back. But I can understand why there might be some concern about how a fullback could be replacing some of the roles that Panther's running backs play. Tolbert played a significant role in San Diego's offense, especially when their running back Ryan Matthews was injured. But just because Tolbert played running back every once in a while in San Diego, doesn't mean he'll be a running back in Carolina.
But let's discuss how this signing affects Cam Newton. We all remember what our favorite play call was: The Panthers would line up near the goal line, Ryan Kalil would hike the ball, and Cam would charge over the goal line himself. I remember how awesome it was watching Cam launch himself into the air and dive over defenders. Despite how awe-inspiring it was, I often wondered how long this could last.
Apparently Ron Rivera and Marty Hurney were wondering the same thing, so they signed Tolbert.
The Panthers need to prioritize keeping Cam healthy, and one way of doing this is by eliminating specific situations which could jeopardize his health. Taking dives into the end zone is an inevitable consequence of being a mobile quarterback, but Cam shouldn't have to be asked to so it so often where he's rushing for 14 touchdowns in a season.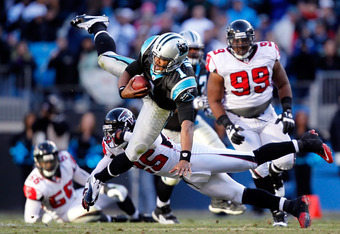 Streeter Lecka/Getty Images
There's also another reason why the Panthers needed another option on the goal line. By now, all NFL teams have a whole season worth of tape on Cam's offensive plays at the goal line. Without another option for a goal line play, Panthers opponents will most certainly be anticipating Cam taking the ball in himself, and will zero in on him.
Now these two reasons might not be the only ones why the Panthers signed Tolbert, but they are definitely ones that I agree with more than one of the alternatives, like replacing Williams and/or Stewart. Across the league, Tolbert is known not only as an asset for goal line situations, but also as a great contribution to special teams, another area that Panthers need to improve.
Part of the conversations surrounding the fate of double trouble have been influenced not just by Tolbert's signing with the Panthers, but also by the Denver Bronco's new acquisition. Panther fans who worry about the fate of double trouble might believe that John Fox will now likely target another weapon for Peyton Manning and who better than one of the running backs he drafted and knows from his previous regime. Since the Panthers just signed Tolbert, maybe Fox thinks that a certain Panther is now available.
I don't think subscribe to the thought that Williams or Stewart are on their way out. The Charlotte Observer has already stated than Stewart is "not likely" to be released or traded by Carolina. The Panther's site also claimed that Tolbert will be joining double trouble and his contract states that he will be a fullback. Finally, Hurney said that Tolbert "gives [the Panthers] a chance to add another weapon on offense," but he didn't say Tolbert is there to replace any of the weapons they already have.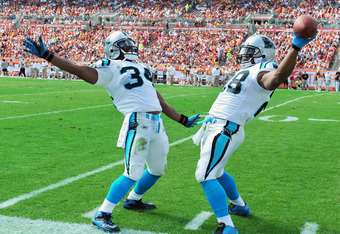 Al Messerschmidt/Getty Images
If Fox is looking to snag a Panther running back, then he might have to look elsewhere. No matter how much he likes them, I don't think Williams and Stewart are options for him. At least, I hope not.
If anything, there's still Mike Goodson, who is more likely to join Fox than Williams or Stewart.
Rivera and Hurney are probably more concerned with improving double trouble than dismantling it.  One way of improving the running game is by finding a replacement for Jeff Otah, who was a big part of double trouble's initial success but has been struggling with injuries since then. Williams and Stewart, together, ran for over 5,000 yards in just three seasons. I don't see any reason why Carolina would want to get rid of one of them.  However, I could see them trying to utilize them better, by making adjustments to the offensive line. 
Keep in mind, that even though double trouble hasn't been as effective these last two seasons, but I'm sure that Rob Chudzinski will be able to utilize their skills a lot better this coming season.  
I believe that the signing of Tolbert is good news for Cam and the Panthers; it's not bad news for double trouble.