NCAA Bracket 2012 Predictions: Vanderbilt and Trendy Picks Likely to Fall Flat
March 12, 2012

Chris Graythen/Getty Images
Here's my beef with the bulk of NCAA tournament coverage between Selection Sunday and the opening weekend of March Madness (of which I am admittedly an infinitesimally small part): There's so much of it—so much glossing and re-glossing over seeding and matchups and sleepers and so on—that underdogs can easily become upset specials (and vice versa) by virtue of being dissected ad nauseum!
It should come as little surprise then that I'm on pins and needles awaiting the start of the Big Dance, as much for the fantastic college basketball to come as for the silence that's soon to befall the incessant yammering of "experts" and talking heads who've been so kind to offer us all assistance in filling out our brackets.
Don't be too surprised if their Cinderella/sleeper/upset picks flop, including these three, all of whom look likely to falter before too long.
Vanderbilt
I know, I know—I like the Commodores, too! They're talented, they can shoot, they're experienced (four seniors and a junior in the starting lineup) and they just beat No. 1 overall seed Kentucky.
So why won't Vandy make a run, you ask?
One word: history.
The Commodores have lost to double-digit seeds in each of their last three trips to the Big Dance, twice as a No. 4 seed and once as a No. 5 seed.
And what is Vanderbilt this time around? A fifth seed, against 12th-seeded Harvard in a Battle of the Brainiacs.
Oh, and that same talent and experience that Kevin Stallings' squad sports were also on hand for its early exits in each of the last two tourneys. 
Cal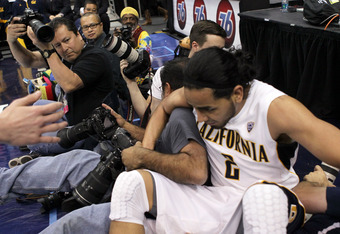 Stephen Dunn/Getty Images
There's a reason the Bears got knocked out of the Pac-12 tournament by Colorado—they're not very good!
Sure, Mike Montgomery has some nice players on hand, including Pac-12 Player of the Year Jorge Gutierrez, leading scorer Allen Crabbe and Harper Kamp in the post. And Bak Bak—can't forget about Bak Bak.
Really, Cal has a decent squad but, like everyone else in the Pac-12 this year, Cal failed to consistently put the requisite pieces together.
Sure, they could be this year's VCU, making a run as one of the last four at-large teams in. Or, they could just as easily struggle against South Florida in Dayton on Wednesday and head back to Berkeley shortly thereafter.
Hmmm—I'll go with the latter.
Connecticut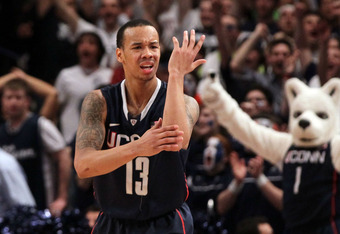 Jim McIsaac/Getty Images
Red flags should've gone up across America when UConn needed a bit of mercy from the selection committee just to crack the 68-team field. After all, the Huskies are the defending champs with a slew of key returnees, including Jeremy Lamb and Shabazz Napier, not to mention a pair of "Diaper Dandies" in Andre Drummond and Ryan Boatright to round out the roster.
Granted, much of UConn's struggles stemmed from Jim Calhoun's health problems, Kemba Walker's departure to the NBA and a grueling schedule in the Big East.
That being said, if UConn could only barely survive that onslaught, how can the team possibly hope to hold up against Kentucky in the second round—or even Iowa State in the first?
If you don't know who Royce White is, then you'd best get familiar. The 6'8", 270-pound point forward carried the Cyclones to a fourth-place finish in the Big 12 with wins over Kansas and Baylor, and White is just as liable to steamroll whoever the Huskies throw in his path.
For your printable NCAA tournament bracket here.