WWE Divas: Eve Has Completely Overshadowed Kelly Kelly & It Is Embarrassing
March 9, 2012

Eve finally overtook Kelly Kelly and got the fans' attention, but the fact that it took turning on Zack Ryder to do it proves that she isn't much of a star.
Kelly is beautiful and has been pushed down the throats of wrestling fans for a long time now.
The only problem is that she can't wrestle very well and her acting efforts are painful to watch sometimes. She can be as monotone as a high-school play production.
That isn't to say that she hasn't had her better moments, though even those aren't of the highest quality.
It would be harsh to criticize her so quickly if she had just been signed to the company or if she had just been brought up, but she has been with the company for six years. She is a veteran at this point, though you would never know it.
In an article on SLAM! Sports, it is even mentioned that John Laurinaitis came up to her while she was a bikini model in Hawaii and offered her a contract. She had never wrestled before and had not planned on wrestling as a profession.
That lack of passion may be why she isn't getting any better. She hasn't shown a desire to really improve.
And why should she?
She was given a chance to appear on television and make money before she could even drink. She already got everything that she should have had to work hard for, but was given to her.
Eve Torres at least sought the company out by entering the WWE Diva Search several years ago. She won and has been given plenty of opportunities since then.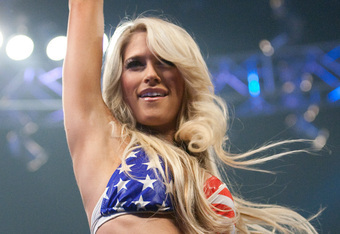 It isn't as if Eve hasn't trained in martial arts either.
She is a certified blue belt under Gracie Jiu-Jitsu. That training should have helped her in the ring, but she hasn't stood out from the other women at all despite her unique skills.
She has also shown in the last few weeks that she can at least emote in some way to get the audience to boo her. She has all the tools, but she hasn't used them until her turn on Ryder.
She has been with the company since 2007.
In both cases, there are beautiful women who didn't start out with a passion for the business, but somehow fell into it. One at least sought it out and now she is rising to the top, though neither have spent years perfecting their craft.
Still, Eve had an edge, but it took her this long to use it and push past Kelly Kelly.
No matter how hard Kelly's push has been, Eve should have been able to do it years ago.
Instead both decided to become divas instead of focusing on being better performers.
Hopefully, that is changing for Eve.