Fantasy Baseball Sleepers 2012: Closers Who'll Make Leap to Elite
March 8, 2012

Ezra Shaw/Getty Images
The following closers will save your bacon in your fantasy draft. When other people are using early-round picks on stars like Brian Wilson and Mariano Rivera, you can take some hitters or starting pitchers who bring more than one statistic. 
Then, when it comes time to select your closer a few rounds later, these waiting-in-the-wing stars will be there to pounce on. Don't waste that chance. 
Jason Motte
We got a really nice glimpse of Motte last postseason, but let's not forget how much of a question the St. Louis bullpen was before that. He stepped in and turned the pen into one of the team's greatest strengths, having very little experience closing prior.
Now that he's going to have the job going into the season, Motte will do some great things. If your first real pressure experience closing games comes in a pennant race and then the playoffs, the pressure of April-August is not going to be bad at all. 
We'll see how the offense responds to losing Albert Pujols. If they stay on top of their game and put the Cardinals in position to win a lot of games, Motte could push 40 saves. As it is, he won't hang up any fewer than 30.
2012 Projections
| | | | | |
| --- | --- | --- | --- | --- |
| Saves   | W-L    | Ks   | ERA    | WHIP |
| 36  | 3-4  | 57  | 2.84 | 1.11  |
Jordan Walden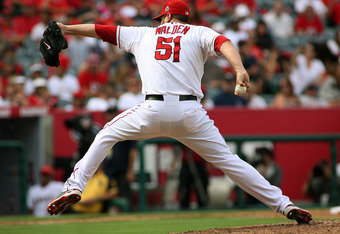 Jeff Golden/Getty Images
Walden's stuff is just filthy. He had 32 saves a season ago despite blowing 10. Now, we have to take a step back to realize that he's only 24 years old and has plenty of time to harness his stuff. That is going to happen this year. 
Also, in case you live under a rock, Pujols left St. Louis to come to the Angels. They are going to be a much more potent offensive team this year, meaning late-inning leads will be the norm. As if that wasn't enough, the Angels also boast one of the better starting rotations in the league, which isn't going to hurt the save opportunities. 
All of that combined with an extra year of experience will work wonders for Walden. He will go from a guy who put up nice saves but nothing else, to being one of the game's top closers. 
2012 Projections
| | | | | |
| --- | --- | --- | --- | --- |
| Saves   | W-L    | Ks   | ERA    | WHIP |
| 39  | 2-4  | 73  |  2.53 | 1.09  |
Jim Johnson
Unlike the first two players, Johnson plays on a poor team, so they won't be up as much. That seems bad, but also note that Baltimore's not going to be winning any games by blowouts; the Cardinals and Angels will. So, the games they do win, Johnson will be a big part of. 
Johnson's been a solid relief pitcher over the last few years. A season ago, he put up a 2.67 ERA in 91 innings, which is spectacular. 
That success will translate to the closer's role in Baltimore. He will hang around the 30-save mark, possibly moving up to 35 if the Orioles situation allows it. 
The other thing to consider is that closers have a lot of trade deadline value. If the Orioles are out of contention, Johnson could easily be moved to a contender at the end of the season, racking up more save chances.
2012 Projections
| | | | | |
| --- | --- | --- | --- | --- |
| Saves   | W-L    | Ks   | ERA    | WHIP |
| 29  | 5-3  | 61  | 3.04  | 1.16  |