LA Dodgers 2012 Preview: Where Should Outfielder Jerry Sands Begin the Year?
March 12, 2012

Tony Medina/Getty Images
In 2009, not even Jerry Sands could have predicted what the past few years have had in store for him. Now, going into the 2012 season, I am going to try to sort out the situation and predict where the sweet-swinging outfielder is going to find himself when Dodger spring training camp breaks in a few weeks. 
Jerry Sands was drafted in the 25th round in 2008 out of Catawba College in rural North Carolina.  Sands struggled in the Gulf Coast rookie league in 2008 but began to heat up in 2009, earning promotions to Low-A Great Lakes. In 2010, Jerry started to undertake the unbelievable journey to the big leagues; he was named the Dodgers Minor Player of the Year.
In 2010, the 6'4", right handed Sands smashed 35 home runs and batted a shade over .300 in both High-A and Double-A. 
Sands got a good look with the major league ball club in spring training last season and continued to show off his ability. Batting .313 last exhibition season, Sands displayed power and his poise at the plate even against top major league pitchers.
He quickly became the top prospect to be called up and earned the love of the front office and the Dodger coaches. 
On April 18th, Sands found himself in a Dodgers uniform and he began his first stint with the big league club. Jerry failed to impress, batting only .200 while playing both left and right field. Striking out 33 times just about 120 at-bats, the 24-year-old was overmatched and unable to adjust to the rigors of facing dominant pitchers. 
However, Sands earned respect because of his work ethic and professionalism, which went a long way with manager Don Mattingly. Sands was trying hard, but the fact was that only a year ago he was facing Single-A pitchers in low-pressure situations.
Now he was being counted on in key situations in places like Philadelphia's Citizens Bank Ballpark.
Sands was sent down for a month before earning a call-up in September when rosters expanded. Jerry showed growth, batting .342 over the last month of the season in 73 at-bats, a fairly good sample size. With a couple home runs, increased power and decreased strikeout levels, Sands looked like a sure bet to be included in the plans for 2012. 
Even if GM Ned Colletti did not want to pressure Sands with a starting spot, it was a common assumption that he would be a solid role player in the coming season. However, Colletti then resigned left fielder Juan Rivera, which blocked Sands' starting role and brought in veteran utility man Jerry Hairston Jr. to be the right-handed bat off the bench.
These moves negated Sands impact on the team.
It is not like Rivera has tremendously better numbers than Sands in 2011, either—Rivera hit .258 with 11 home runs last season overall. Sands, comparatively, hit .253 overall with four home runs and 26 RBIs in significantly less at-bats.
Rivera is a one year stop-gap to allow Sands to develop into the All-Star that many Dodger executives believe Jerry is, but currently he is the issue blocking his development as a major leaguer.  
Now, the question is whether Sands should spend more time playing every day at Triple-A Albuquerque, or if he is better suited playing occasionally while spelling Rivera and first baseman James Loney.
With Sands excellent swing, consistent growth and propensity to impress at every level, Sands could very well benefit from playing in a couple games a week and focusing on dissecting the game from the bench otherwise.
I think Sands needs to see quality at-bats and time on the field, but that is something that can be finagled throughout the course of a year.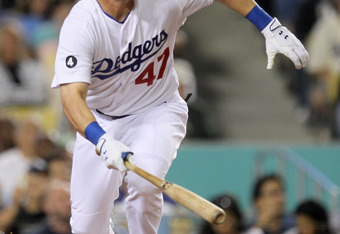 Stephen Dunn/Getty Images
Sands needs to be on the big league team from day one this year, learning how to be the hitter that won Don Mattingly numerous American League batting titles. Sands' style of hitting is similar to Mattingly, with a high average and decent power numbers despite a physical presence that would suggest the reverse. 
Mattingly is hinting at Sands opening up the season at Triple-A, which would serve no purpose for his growth and development.
Jerry needs a full season to settle in and gain the experience of playing different roles, spelling Rivera in left, Ethier in right and Loney at first. Sands can continue to work on playing third base—a project of his—during practice and potentially in blowout games.
Although I think Sands will be designated to Albuquerque at the end of March, where he can bat clean up and play a variety of positions, his value to the Dodgers in significantly underrated. His .340 on-base percentage could immediately get better with the Dodgers, but instead the Dodgers will probably go with a journeyman like corner infielder Josh Fields for the last roster spot.
Expect Sands to be the first position player called up not named Tim Federowicz this spring, and expect him to see valuable time roaming the outfield in Chavez Ravine as the summer goes on.
The Dodgers always find ways to get injured, and when someone goes down, Sands will be there to produce in their place.
As for the six weeks that Jerry is not with the team, it will take him longer to find his groove and put him at an unnecessary disadvantage. The next few weeks will determine Sands overall fate for the last cut at the end of March, but no matter what, the future is bright for Jerry and he could not be a better person for success to find.