Jacoby Ellsbury: Are His Days in Boston Numbered?
February 27, 2012

Jim Rogash/Getty Images
The Boston Red Sox drafted Jacoby Ellsbury 23rd overall in the 2005 MLB draft out of Oregon State. Ellsbury burned through the minor leagues and had a very impressive debut in late 2007.
In 2008 and 2009 Ellsbury hit .291 with a total of 12 HR and 107 RBI. That does not sound too impressive, but he also stole 120 bases.
Ellsbury was not just a terror on the basepaths, he also used his speed to cement himself as one of the best defensive outfielders in the majors.
Then 2010 happened.
On April 11 Ellsbury ran into third baseman Adrian Beltre while trying to field a ball, which set off a series of injuries that cost Ellsbury all but 18 games of the 2010 season.
In 2011 Jacoby Ellsbury took the next step to stardom by hitting .321/.376/.552 with 32 HR, 105 RBI and 39 SB to go along with Gold Glove defense.
When the Red Sox stumbled in September, Ellsbury only got better.
He hit an incredible .358/.400/.667 with eight HR and 21 RBI. But it was not enough as the Red Sox completed their historic collapse with a loss against the Baltimore Orioles on the final day of the season.
Ellsbury finished his incredible season by finishing second in the AL MVP voting, won a Gold Glove, a Silver Slugger award and was named the AL Comeback Player of the Year.
Jacoby Ellsbury is one of the game's brightest young stars and is a homegrown talent for the Boston Red Sox, so why would they not do everything they possibly could to lock him up to a long-term extension right now?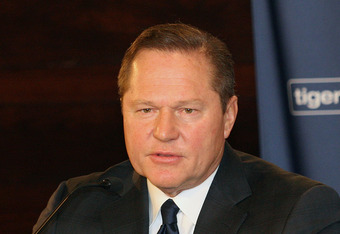 Jorge Lemus/Getty Images
Despite Ellsbury's sterling comeback the Red Sox and Ellsbury did not engage in any negotiations for a long-term deal this offseason even though Ellsbury only has two more years left or arbitration eligibility.
Ellsbury even had some kind words to say about the city of Boston and the Red Sox organization itself.
"I love playing here. It's a great place to play. I love the fans," said Ellsbury. "It's a great place to play. It's the only place I know. I enjoy playing in that pressure environment."
If you are looking for a reason why Ellsbury and the Red Sox have not negotiated yet you have look no further than his agent: Scott Boras.
Boras has a reputation of telling his clients to test the open market so that they can maximize their contract size. Some of Boras' clients—like Jered Weaver—do not take his advice by signing team-friendly deals before they hit free agency.
Ellsbury will not be one of those clients.
Jacoby Ellsbury will be letting Scott Boras make all negotiations over a new contract.
"There's always that possibility. I kind of leave that up to my agent. I was just happy we could get everything worked out this year. As far as future contracts and stuff like that, I let them take care of that and inform me if there's a decision to be made."
On the open market Ellsbury could be looking at a deal similar to Matt Kemp's eight-year, $160 million deal. Even if Ellsbury is not worth that many years by the time he hits the open market, Scott Boras always finds a way to get more than market value for his clients.
That may be possible for the Red Sox to afford but would it be worth it? The Red Sox already have $107 million per year tied up for Adrian Gonzalez, Carl Crawford, Josh Beckett, John Lackey, Dustin Pedroia, Jon Lester and Clay Buchholz in 2014.
Would they want to add another $20 million to that total for a 30-year-old outfielder over such a long deal?
With that $20 million the Red Sox could shore up other needs such as their rotation and re-sign other key pieces that will be free agents within a couple short seasons, such as Dustin Pedroia and Jon Lester.
What are the other possibilities? If Ellsbury walks, who would replace him?
The Red Sox already traded Josh Reddick in a package for closer Andrew Bailey. They still have Ryan Kalish and Bryce Brentz. Then there is always a cheaper option, like Nick Swisher or Melky Cabrera.
Would Ben Cherington and the Red Sox even let Ellsbury walk? How about a trade?
The Red Sox definitely have problems in their rotation behind Beckett, Lester and Buchholz. Trading for another pitcher would allow Daniel Bard to move back to the bullpen to set up for Andrew Bailey.
Who would the Red Sox trade Ellsbury for? How about Felix Hernandez?
When the Seattle Mariners traded Michael Pineda to the New York Yankees they severely lowered the chance Felix Hernandez would be traded, but it is always a possibility if the right package comes along.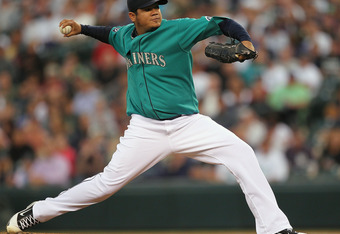 Otto Greule Jr/Getty Images
The Mariners have three great pitching prospects in Taijuan Walker, Danny Hultzen and James Paxton.
A deal centered around Jacoby Ellsbury, Will Middlebrooks and Anthony Ranaudo would probably get the Mariners interested. They would be getting a star center fielder, a very good third base prospect and Boston's 2010 first-round pick.
Both sides would win that deal. The Red Sox would get a true ace and the Mariners would get the necessary pieces to help rebuild.
Ben Cherington and the Boston Red Sox are in a tough position with Jacoby Ellsbury. Should they overpay to keep him or look in other directions to help the franchise? It is a tough call that will have to be made soon.
Will the Red Sox re-sign Jacoby Ellsbury, will they trade him or will he walk in free agency?
Nobody knows, but it will be an interesting two years.