Boston Red Sox Using New York Yankees' Model to Build 2012 Starting Rotation
February 26, 2012

Jim Rogash/Getty Images
Josh Beckett, Jon Lester and Clay Buchholz each have comfortable spots in the Boston Red Sox's starting rotation as 2012 MLB spring training games draw near. Daniel Bard also seems to have his position sewn up, though that is not to say that he has no substantial work to do for the next six weeks.
After Bard, things get even murkier. Alfredo Aceves would be the fifth starter if the season began today, but that's a long way from a secure situation. The Red Sox lost the race for the AL Wild Card last season because their rotation was too thin, and on the surface, it appears to be so again as Opening Day 2012 approaches.
By signing a myriad of journeymen and castaways with established MLB bona fides, though, Boston has committed to the same model of rotation-building that guided the 2011 New York Yankees to the AL East title.
WHAT THE YANKEES DID
Entering the winter of 2010-11, the Yankees had three spots in their 2011 starting rotation filled. C.C. Sabathia was the ace, a truly elite workhorse with Cy Young potential and the ability to deliver 230-plus innings annually.
A.J. Burnett, though already turning the wrong kind of corner in late 2010, held a firm grip on the second slot. Phil Hughes, despite a second-half slide of his own, figured to return stronger than ever with a full year as a starter now under his belt.
Beyond that trio, though, New York had no clear assets. Ivan Nova and Hector Noesi each had solid mid-rotation upside, but neither was obviously right for a starting role. Frustrated by stagnated development and low ceilings, New York bid adieu to Dustin Moseley and Sergio Mitre.
They also released the injured Aceves, who would find his way to Boston. It looked like pitching could be the team's downfall.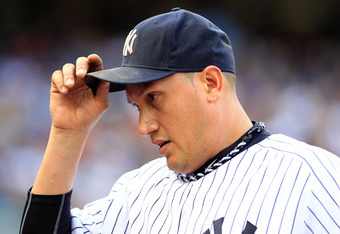 Chris Trotman/Getty Images
With money to spend and spring camps approaching, though, the Yankees dove into the pitching bargain bin the way only rich folks can: head first, grabbing whatever looked good.
They emerged with Bartolo Colon (signed Jan. 26), Freddy Garcia (Feb. 2), Kevin Millwood (Mar. 25) and Carlos Silva (Apr. 9). All signed minor-league deals that left the door open for the signees to make worthwhile money if they ended up contributing to the team.
The gamble cost New York virtually nothing, given their budget, but paid off brilliantly. Though Silva battled injuries and never made it out of the minors, and Millwood pitched only for the Rockies after requesting his release, Brian Cashman and Joe Girardi got 311 innings and an ERA of roughly 3.80 from Garcia and Colon. The rotation's 4.03 ERA more than sufficed for a team with an explosive offense.
CAN LIGHTNING STRIKE TWICE?
The Red Sox aren't as ideally suited to the Yankee model as were the Yankees. Because they lack an ace capable of delivering 225 top-shelf innings, they need a bit more from the back of the rotation than did Sabathia's squad. Even so, the mix of extras they have assembled is interesting.
After years of dominant relief, Daniel Bard returns to the rotation. In his last sojourn there, he walked 78 and struck out only 47 (be careful not to transpose those figures) and had a 7.08 ERA In 75 innings. That was in the minor leagues in 2007, so a lot has changed, but it's fair to wonder whether Bard will be tremendous or terrible in 2012.
Most of the fifth starter's assignments will probably go to Aceves, but Andrew Miller is also very much in the picture. Those three are the main holdovers who have a solid chance at winning starts in camp.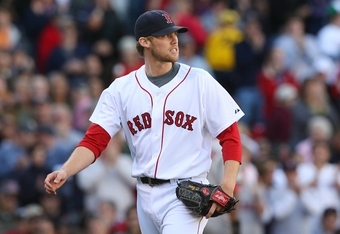 Jim Rogash/Getty Images
Perhaps having noted the Yankees' success, though, Boston also spent its winter collecting some pitchers with a chance of finding their gear and contributing in their own right, on fairly rich minor-league deals.
Aaron Cook is the ground-ball specialist. He has the best blend of youth and recent success of any of Boston's finds. Clay Mortensen shares some traits with Cook, but mostly gets linked to him because both came to Boston from the Colorado Rockies.
Vicente Padilla and Carlos Silva both need to overcome the perception that their stuff has deserted them and that their attitudes hurt clubhouses, but each has good command and a little bit left in their arm.
That leaves Ross Ohlendorf. Boston scooped him up Feb. 16, after the Pittsburgh Pirates non-tendered him in December. Ohlendorf, 29 this season, had an ugly 8.15 ERA in 2011, but prior to that, had started 50 games and posted a 3.98 ERA in 285 innings from 2009-10.
He's certainly smart enough to out-pitch his (only okay) stuff, as his degree from Princeton attests. Ohlendorf might be to the Red Sox as Garcia was to the Yankees last year, provided he can stay healthy.
THE SECRET WEAPON?
Never was there a more famous under-the-radar potential contributor than Daisuke Matsuzaka. Whether the Red Sox's low-end investments pay off or not, Matsuzaka's potential midseason return could be a surprising boost to the entire staff.
He might not ever be the man who fanned 201 batters his first big-league season again, but he can be a solid fifth starter if he returns from Tommy John surgery he had in June 2011. It might have tempted last year's Red Sox to stand pat with their thin, but high-ceiling starting corps, and hope for something from Matsuzaka.
The organization has learned better. They have already added a bunch of small insurance policies, and don't be surprised if others—like out-of-options Tom Gorzelanny or Dana Eveland—join that cadre in coming days.
Bobby Valentine and Ben Cherington will have to push the right buttons in the next six weeks, and even into the season, to make this gambit a winner, but Boston has put itself in position to beat the Yankees at their own game.
Follow @MattTrueblood