WWE News: What You Need to Know About Wade Barrett's Injury
February 21, 2012
Last night on Raw, Wade Barrett was injured in the Battle Royal main event. The injury took place during a spot where Barrett was outside of the ring, and Big Show threw Dolph Ziggler out to Wade Barrett.
During the impact, Barrett dislocated his left elbow. WWE.com is reporting that Barrett suffered a partial dislocation of the elbow and will be sidelined for six-eight weeks.
I am going to discuss the physiology of this injury, and what the rehab will be.
First off, the elbow is a joint that is formed by the ulna and radius of the forearm, and the humerus of the upper arm.
All of these bones articulate together forming the elbow joint.
When one or more of these bones become separated from the normal position, it is called a dislocation.
A partial dislocation, also known as a subluxation, is the most minor of all the possible dislocation injuries.
During any type of dislocation, there is the potential for ligament and tendon damage. As of now there are no reports of this in regards to Barrett, but he will be getting an MRI to know for sure.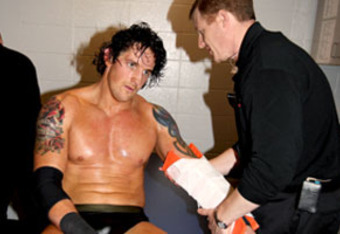 For people who are not pro athletes, the complete recovery time, which includes immobilization, physical therapy and rehab, can take up to eight weeks and maybe even longer. There is also a chance of a permanent decrease in range of motion.
For Wade Barrett, I think he will be completely recovered in about six weeks. He will have his arm in a sling for one-two weeks, physical therapy to build up his range of motion and strengthen ligaments and tendons for about two weeks, then he will be able to lift weights and strengthen the muscles.
WrestleMania is 40 days away. That is five weeks and five days. There is a chance that Barrett will be able to compete at Mania if the match is set up to protect the elbow, however with many top-tier talents being put on the shelf with injury, WWE will likely play it safe and keep Barrett off the card.
All this can change depending on how Barrett responds to physical therapy.
We will just have to wait and see how this all plays out.
For those wondering, I have over five years emergency medicine experience working for an ambulance and I am studying medicine in college.
Follow me on twitter@lcbjr3000
Love me or hate me, just as long as you read me.