New York Yankees Baseball Quiz for Those Who Think They Know the Score
February 20, 2012

Lisa Blumenfeld/Getty Images
New York Yankees: (Sort Of) Ultimate Quiz for Diehard Fans II
Some complained the first quiz was too easy. Others said it was too difficult. Hopefully, Quiz II is just right. For all of you out there who think you know your baseball—especially New York Yankees baseball—this is the quiz for you.
Eighteen questions. Answers follow the questions, so no peeking. A score of nine or more correct makes you a major leaguer. Below that you are in the minors but on your way up.
Have fun.
QUESTIONS
1. What uniform number was retired by the Yankees to honor a player who never was on the team?
A. Jackie Robinson  B. Bob Feller  C. Dom DiMaggio D. Pee Wee Reese
2. Who remains the only Yankee to hit four home runs in one game?
A. Lou Gehrig  B. Reggie Jackson  C. Babe Ruth   D.Yogi Berra
3. When Babe Ruth retired in 1935 with 714 home runs, only two other players had hit 300 home runs. Who were they? Hint: One played for the Yankees, the other mostly for the St. Louis Cardinals.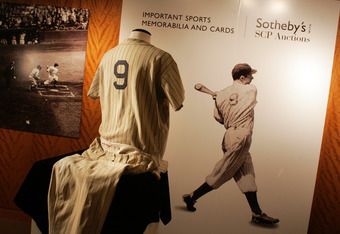 Michael Nagle/Getty Images
4. Who was the last batter Don Larsen faced in the Perfect Game he pitched for the Yankees?
5. Who played the most games for the New York Yankees?
A. Wee Willie Keeler  B. Mickey Mantle. C. Joe DiMaggio D. Lou Gehrig
6.  "SEE YA! SEE YA! SEE YA!"  is signature call of
A. Susan Waldman  B. John Sterling C. Michael Kay  D. Mel Allen
7. In 1977, who nicknamed Reggie Jackson "Mr. October"?
A. Willie Randolph  B. Thurman Munson  C. Goose Gossage  D. Mickey Rivers
8. What major league team did Joe Girardi manage before the Yankees?
9. Who was nicknamed "Chairman of the Board"?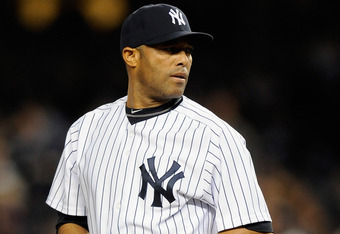 Patrick McDermott/Getty Images
A. Whitey Ford  B. Reggie Jackson  C. Yogi Berra  D. Frank Howard
10. Where do the Yankees train in the spring?
11. Who is the current Yankee captain?
12. Whom did George Steinbrenner purchase the Yankees from?
13. Who is Mr. Sandman?
14. Who made up the "Core Four"?
15. When did the Yankee play at Shea Stadium while Yankee Stadium was being refurbished?
16.  Who said "Yankee Stadium was a mistake, not mine, but the Giants." 
A. Yogi Berra  B. Harry Frazee  C. Jake Ruppert  D. Babe Ruth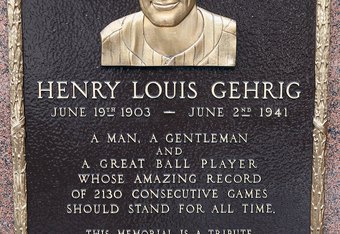 Jim McIsaac/Getty Images
17. When was Yankee Stadium's first World Series game played?
A.  1927   B. 1924   C. 1923   D. 1922
18.  What Yankee became the first idol of Japanese fans?
A. Babe Ruth  B. Lou Gehrig   C. Earl Coombs  D. Jake Ruppert   
Answers               

1. (A) Jackie Robinson, No. 42. The number was retired on April 15, 1997 on the 50th anniversary of the breaking of baseball's color line. Mariano Rivera is the last Yankee to wear the number.
2. (A) Lou Gehrig
3. Lou Gehrig, 378; Rogers Hornsby, 300.
4. Dale Mitchell
5. Mickey Mantle played more games for the Yankees than any other player, with 2401.
6. C. Michael Kay
7. B. Thurman Munson
8. Florida Marlins
9. A. Whitey Ford
10. Tampa, Florida
11. Derek Jeter
12. CBS
13. Mariano Rivera
14. Mariano Rivera, Derek Jeter, Jorge Posada, Andy Pettitte
15. 1974 and 1975
16. C. Jake Ruppert
17. C. 1923
18. A. Babe Ruth
A noted oral historian and sports journalist, Harvey Frommer has written many sports books, including Fenway Park: An Oral and Narrative History of the Home of the Boston Red Sox.  His work has appeared in The New York Times, Los Angeles Times, Washington Post, New York Daily News, Newsday, USA Today, Men's Heath, The Sporting News, Epoch Times and, of course, Bleacher Report, among other publications. Click here to visit his website.