Oregon QB Darron Thomas 2012 NFL Draft Scouting Report
February 17, 2012

Stephen Dunn/Getty Images
Oregon Ducks quarterback Darron Thomas does not have as much pub as some of his teammates do—such as running back LaMichael James—but he has had a solid career for the Ducks, throwing 63 touchdowns to only 16 interceptions the last two years.
His statistics back up his quality game management skills, showing that he does not lose games for his team, which is all you can ask for of a college quarterback.  
While this is good for college, it may not be enough for the NFL, a league in which quarterbacks make their money on clutch throws on 3rd-and-long with two minutes left in the game. That leaves the question of what to make of Thomas as a pro prospect.  
Size
The quarterback in green and yellow stands in at nearly 6'3" and 215 pounds, a size that bodes well for the professional level of football. He has taken some big shots while standing tall in the pocket or scrambling around in the open field in an effort to pick up yards with his legs.
In my opinion, he's shown multiple times that he is a tough quarterback, willing to sit in the pocket and take a hit from a creeping defender while attempting to deliver the ball. 
Scheme
When it comes to evaluating the scheme that Thomas operated in, it can get a bit difficult in projecting his transition to the passing spread and pro style offenses of the NFL. He spends his time in a shotgun set running a spread-option offense that is based on series football.
What this means is that the offensive plays designed are based off of having two main threats on the field over a series of plays out of similar formations and sets, such as having two concepts (one run and one pass) on the same play off of play action—which is commonly used by Oregon.
What this does, along with a motions and shifts, is simplify the game for Thomas by breaking down his reads, which often come down to one or two pass catchers. 
Because of this type of offensive design—which is brilliantly done by head coach Chip Kelly—the game is slowed down for Thomas by throwing simpler routes such as screens and flats. 
Mechanics
Thomas' mechanics are likely to be questioned by some and for good reason because he tends to drop the ball and have a windup when delivering the football.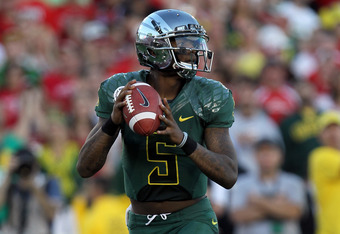 Stephen Dunn/Getty Images
This can be problematic for him in the NFL because athletes are faster and smarter, enabling them to break on passes quicker and earlier based off of their film study and keys.
Also, Thomas tends to drop the ball low and take a hand off of the ball while executing a pump fake. This is another issue that must be taken care of at the next level to avoid costly turnovers.
He needs to keep two hands on the football even when pump faking by using his shoulders to move defenders.  
Footwork
Furthermore, the former Ducks quarterback's footwork is also in question. Although he shows the ability to reset his feet (not consistently, however), he has issues moving his weight to his front foot, causing him to throw off balance which leads to a poorly thrown ball.
Last, he has to do a better job of consistently opening his hips in the direction of his intended target to become a better quarterback, in my opinion. He has issues with this and it affects the accuracy of his passes.  
Accuracy
Thomas' accuracy (or inaccuracy in his case), is his biggest issue. He does not throw with quality accuracy, often showing the inability to lead his pass catchers when they receive the pass instead throwing behind them or over their heads.
That gives them a little chance of catching the pass.
This is worrisome when projecting him at the next level because coaches heavily stress chunk yardage and not every window will be clear when throwing the ball, so he must be able to anticipate where his pass catcher will be.  
Pocket Presence
The pocket presence of a quarterback is one of the most important characteristics, and it can be tied into a feel for the game as well as foot quickness of the athlete. Despite playing in an offense that often has him getting the ball out rapidly, he has shown solid pocket presence at times.
He's shown the ability to sidestep pressure or leave the pocket when interior pressure is present and find open grass to run or throw to. His ability to send blindside pressure is in question, however, due to the lack of snaps in that situation.
Moreover, there are instances in which he will hold the ball too long at times. That will get him in trouble because he does not always throw the ball away, rather forcibly attempting to make a play. 
Game Management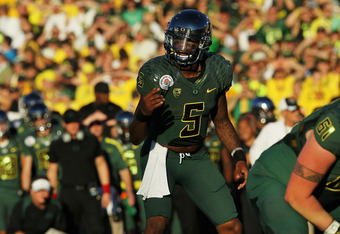 Stephen Dunn/Getty Images
While he does make mistakes when holding the ball too long, he generally does not make the mistake of turning the ball over. He has done a solid job of going through his reads and finding his outlet if the initial target is not open.
Part of this has to do with him going through his reads rather quickly because he does not anticipate receivers well. So if they are not immediately open, he'll go to the next read but he also doesn't force it, which is a positive.  
Touch
If there is one area where I don't feel comfortable grading Thomas, it is this. There is simply not enough snaps when he has to drop the ball to a target in a tightly contested area. He's done it a few times on deep throws from what I've seen, but not enough in the intermediate range where I'd like to specifically see how he does. 
Arm Strength
Arm strength is one of the most interesting characteristics of a quarterback to grade because some quarterbacks have a very strong arm while others have a weak one.
To me, it comes down to having a good enough arm or not. Thomas' arm is good enough but doesn't often appear that way. The reason for this is because of his footwork, which is very raw and needs to be cleaned up by coaches at the next level.  
Despite this, he shows the ability to throw with velocity in all depths of the field as well as a high arching throw to receivers down field.  
Mobility and Throwing on the Run
Darron Thomas' mobility is his strength—he's able to move the pocket with quickness and speed, which allows him to pick up yardage when defenders turn their back to him in man coverage.
When he's not scrambling for extra yards with his feet, he's able to throw the ball well while on the move. He shows the ability to square his hips and throw off his right foot with accuracy. He excelled in this area and head coach Chip Kelly took advantage of this by frequently rolling him out of the pocket on play-action passes. 
Final Evaluation
Overall, Oregon Ducks quarterback Darron Thomas has had a solid collegiate career, which he surprisingly ended a year early. Although it is unlikely he would have improved his raw characteristics—such as his footwork with another year in Eugene—it still would have been better than declaring himself eligible for the 2012 NFL Draft, one that will likely have his stock all over the place.
His stock could range anywhere from fifth round to undrafted free agent, depending on what each team places an emphasis on and what it sees in him.
Based off of the games that I studied, I have a hard time believing Thomas' pro career will culminate in him developing into a quality starter because of his inconsistent playmaking ability in the pocket. That is an area that I believe is a common denominator in the NFL's best.