Bobby Grich: A Baseball Hall of Famer by Anyone's Standards, Neglected by Voters
February 16, 2012

Rick Stewart/Getty Images
It was feel-good time at the Hall of Fame this year, when the Veterans Committee got together and decided that Ron Santo was the most deserving player that had been overlooked by the writers. 
Everyone was happy and wrote about what a fine player Santo was, and how sad it was that it was too late for him to actually experience the selection since he had passed away.
I'm not saying Santo doesn't belong in the Hall of Fame.  I don't really know where the line should be drawn between Hall of Famers and those who are not quite good enough. 
But I know one thing for sure: There are better players who have been overlooked by both the writers and the Veterans Committee.  One of them is Bobby Grich.
Bobby Grich, you may recall, played second base for 17 years in the American League in the 1970's and 1980's.  He played second base really well.  He won five Gold Gloves at the position.  He hit, he walked, he had power. 
He actually was a better hitter than Ron Santo.  Santo has better numbers because he spent half his career hitting in Wrigley Field, while Grich made his home park in Baltimore and in Anaheim.
The overall numbers for the two of them makes it seem like Santo was far and away the better hitter.  Santo hit 342 home runs, had a .464 slugging average and a .277 batting average, while Grich had 224 home runs, a .424 slugging average and a .266 batting average. 
The difference, though, is all in the home field.  Santo's road numbers are 126 home runs, .257 batting average and .406 slugging average.  Grich, meanwhile, has 115 home runs, .264 batting average and .426 slugging average.  Additionally, his on-base percentage on the road was .366, while Santo had a .342 on-base percentage.
The other factors, when you look at them, all fall in Grich's favor.  Santo hit into 256 double plays, Grich only 161.  Santo had 35 stolen bases and was caught 41 times.  Grich had 104 stolen bases, caught 84 times. 
Grich's candidacy is not just based on being better than Santo.  He also compares favorably to another Cubs favorite, Ryne Sandberg.  Again, Sandberg seems to have a great advantage, with a .285 batting average, a .452 slugging average and 282 home runs. 
But his numbers are inflated by Wrigley Field, just like Santo's.  On the road, he has 118 home runs, a .269 batting average and a .412 slugging average.  Sandberg's on-base percentage on the road was only .326. 
Sandberg was a better baserunner than Grich, stealing 344 bases while being caught only 107 times.  He also hit into fewer double plays, 139.  When you look at their career OPS+, it's not surprising to see that Grich is far ahead at 125, while Sandberg has an OPS+ of 114.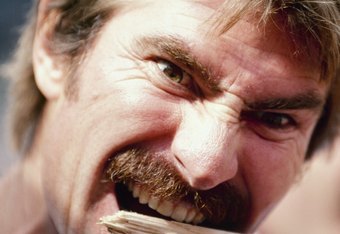 Charles Bernhardt/Getty Images
There are quite a few second basemen in the Hall of Fame already.  You've got Rogers Hornsby, Joe Morgan, Eddie Collins, Nap Lajoie, Jackie Robinson, Rod Carew, Charlie Gehringer, Frankie Frisch, Billy Herman, Joe Gordon, Sandberg, Johnny Evers,  Bobby Doerr, Nellie Fox, Tony Lazzeri, Bill Mazeroski, Bid McPhee, Roberto Alomar, Miller Huggins and Red Schoendienst.  
Among this elite crew, Grich has not trouble competing with the bat.  In fact, his OPS+ of 125 ranks fifth, behind only Hornsby, Lajoie, Collins, Morgan and Robinson.  His OPS+ is higher than Gehringer, higher than Alomar and higher than all the rest.  Among non-Hall of Fame second basemen there are only two who have played at least 1,000 games and have a higher OPS+: Chase Utley (currently at 127) and Larry Doyle (126).
Grich was basically ignored by the writers when his turn for the Hall of Fame came up, taking votes from 2.6 percent of the writers in 1992, and then dropping off the ballot.  Maybe one day this grievous error will be remedied.  I wouldn't hold my breath, though.