Minnesota Timberwolves: Why Wes Johnson Was Destined to Be a Bust
February 16, 2012
Stephen Dunn/Getty Images
In the 2010 NBA draft, the Minnesota Timberwolves were given an ultimatum. Once again, the NBA Lottery didn't bounce their way, and they picked fourth. This meant that the Wolves would have no shot at selecting any of the three "stars" in the draft in John Wall, Evan Turner or Derrick Favors.
With those three almost guaranteed to be off the board by the time the Wolves picked, the Wolves had the choice of selecting Syracuse guard Wesley Johnson, or Kentucky center DeMarcus Cousins.
Because of Cousins' history of anger problems, the Timberwolves wound up selecting Wes Johnson with the pick. Even at the time of the pick, people thought that it would go down as one of the worst decisions in franchise history. As time went on, Wolves fans are finding out they could be right.
In reality, the Timberwolves should have known this was going to happen. Yes, we're two seasons into Johnson's NBA career, and he had a very good senior season at Syracuse. However, the Wolves needed to look at Johnson's stint at Iowa State to see that he wasn't going to be a NBA player.
The Timberwolves needed a shooting guard that could bury an open jump shot. Looking at Johnson's senior season at Syracuse, he hit 41.5 percent of his three pointers. That would give the indication that Johnson was a good shooter.
His performance at Iowa State did not raise any eyebrows, however. Although Johnson averaged roughly 12 points per game in Ames, his three point shooting was abysmal. Johnson shot just 29.4 percent from beyond the arc during his freshman season, and 33.3 percent in his sophomore year.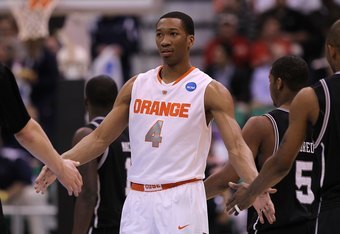 Jed Jacobsohn/Getty Images
After seeing the Cyclones struggle repeatedly, Johnson decided to transfer to Syracuse, for what would be his last collegiate season. The move proved brilliant for Wes Johnson's career, as he was finally surrounded with top-level talent.
The result was Johnson looking like a top NBA prospect, and the Wolves were reeled in. Maybe it was the fascination of David Kahn looking for talent with a "long and athletic" build. Either way, the Wolves took a wolf in sheep's clothing. (No pun intended.)
Seeing Johnson play for the Wolves reminds us what he was at Iowa State. Johnson is a guy with great character, and would be a serviceable bench player on a good team, but he can't carry a team when he's expected to hit open jump shots. (Which is what Rick Adelman is asking him to do.)
Maybe Johnson is playing out of position (as I believe he would be better suited as a small forward), but he still has to contribute to the team in some way. Outside of his shooting woes, Johnson doesn't rebound, defend, pass or do anything else in an adequate manner.
All of this shows in Johnson's player efficiency rating, which currently scores Johnson around five. The average NBA player scores a 15. Yet, Johnson still finds himself in the starting lineup.
Although Johnson is still young, the Timberwolves would be wise to find a replacement for the second Syracuse draft failure for the franchise in the last three years. However, this could have all been avoided if they had just seen it coming all along.