Boston Red Sox: It's Time for Ben Cherington to Show He's in Charge
February 14, 2012

Elsa/Getty Images
It's Spring Training and a perfect time for Ben Cherington to show he's the one calling the shots for the Boston Red Sox.
Cherington is the new General Manager of the Red Sox, but he needs to show the players, manager Bobby Valentine, CEO Larry Lucchino and owner John Henry that the buck stops with him when it comes to baseball operations decisions. 
Right now, I feel Cherington needs to emerge from Lucchino's shadow and assert himself more.  He needs to send signals that he can and will make final decisions, that he can and will say "No" to people and will not let other big egos—like Valentine and Lucchino—push him around.
As Sox fans recall, Cherington got off to an unfortunate start last fall when he led a search for a new manager and chose Dale Sveum—only to be undermined by Lucchino, who ended up suddenly promoting Valentine to be the next manager.
Though Cherington publicly claimed that the process led him, too, to select Valentine, the facts did not support that version of events.  Rather, Cherington put the best face he could on a truly difficult sequence of events forced by Lucchino.
I tried to not draw conclusions from that episode, but other events during this off-season have caused me to worry whether Cherington is flexing his muscles enough with Valentine and Lucchino, in particular.
There was more than one instance when Valentine made a spontaneous comment for media consumption when I thought it was Cherington's role to address the topic.
The topic of whether the team would experiment with Daniel Bard as a starter was one such topic.  Cherington said that the team would consider it, then suddenly Valentine told all that Bard would begin the season as a starter.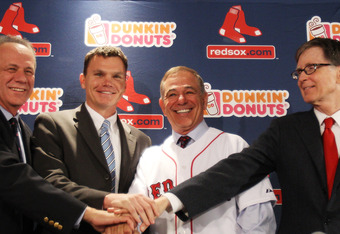 Elsa/Getty Images
In addition, Cherington has chosen to be incredibly deferential to Jason Varitek and Tim Wakefield about their decisions regarding retirement.  In my view, Cherington should have told both that they will not be coming back.  I just think all evidence indicates it's time for both to retire.
At a minimum, I feel that Cherington should have insisted that Varitek and Wakefield make final decisions by now.  Instead, I've heard Cherington say that both players are still mulling things over, and that, in essence, the team will automatically try to accommodate their interests regardless of what they decide.
Why?  Varitek and Wakefield have both had terrific careers here that fans will long remember, but Wakefield hurt the team last year, and Varitek is no longer capable of contributing at the same high level he has in the past.
It is Cherington's role to show leadership in an area like this and guide these players either out the door or toward a speedy resolution.  Instead, it's dragging on with both as Spring Training starts.  That's inexcusable.
Why hasn't Cherington said anything more forceful and original about the team's collapse at the end of last season?  In his public remarks, he has come off as being a bit "in denial" about the extent of the low morale and dysfunction on the team.
He has minimized the scale and scope of the problems.  He has said virtually nothing critical or assertive about the habits of a few of his starting pitchers to drink beer during games.
Cherington has said very little about the team's apparent reluctance to spend much money on player acquisitions in the off-season.  He made an off-the-cuff remark about the team trading shortstop Marco Scutaro in order to have financial flexibility in approaching the potential addition of other players, but the remark was never explained in context and created a negative impression of the team.
Also, there were compelling reasons to keep Scutaro rather than rely on their current plan to use Nick Punto and Mike Aviles.
I like Cherington and I'm rooting for him to excel in his job.  He has not made any big blunders since last fall, but he has not done enough little things to demonstrate that he IS the GM and leader of the baseball team.
Granted, he's got big shoes to fill, but Theo Epstein made his own share of blunders and he's gone now.  It's time for everyone to move on—and that includes Lucchino and Henry.
I can understand Lucchino wanting to help and protect Cherington in his first year, but it appears he's gone a bit too far.  Lucchino has to let go now.  He wanted Cherington to replace Epstein and now he has to let Cherington be his own man.  The more independent and strong Cherington can be, the better it will be for him and the entire Boston Red Sox team.  Even Larry Lucchino.