Washington Wizards Have Set John Wall Up to Fail
February 9, 2012

Rob Carr/Getty Images
There has been a lot said about John Wall's sophomore season with the Washington Wizards, and the reaction from most has been marred with negative commentary.
As the point guard of his team and someone who is asked to lead the Wizards, his team has done a terrible job of setting him up for finding and sustaining success this year.
This is a failure of the organization as a whole, and not just one specific person from within the walls.
It falls on the shoulders of owner Ted Leonsis, GM Ernie Grunfeld and the recently departed Flip Saunders.
Let's begin with Leonsis: he is the reason Grunfeld is still in charge.
The owner regularly blogs about the state of affairs for Washington, but the man he employs as his lead decision-maker has failed to build an impressive roster.
Where do we begin with the missteps Grunfeld has taken at the helm with this Wizards team?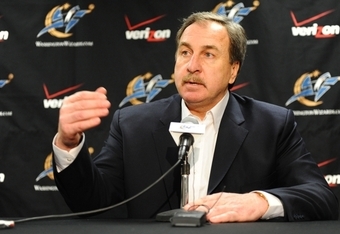 Grunfeld has gone on the record as stating that he has no plans to "abandon" his vision as to how to reshape and retool a franchise that sorely needs it, but it's hard to envision exactly what that plan is right now.
Here's a look at some of his more notable moves since he took over as the man in charge.
2005
Wizards traded Kwame Brown, Laron Profit to Los Angeles Lakers for Chucky Atkins and Caron Butler.
This move should be considered one of Grunfeld's best, and although it was a solid one, it shouldn't be a defining moment in his tenure.
2006
Drafted Oleksiy Pecherov (18th overall) and Vladimir Veremeenko (48).
What even needs to be said here? The Wizards could have drafted Rajon Rondo (21), Kyle Lowry (24) or Leon Powe (49).
2008
Signed Gilbert Arenas to a six-year, $111 million contract
One word, one syllable—yikes.
2009
Traded Pecherov, Darius Songalia, Etan Thomas and 2009 first-round draft pick to Minnesota for Randy Foye and Mike Miller.
Minnesota used the pick to select Ricky Rubio, while neither Foye nor Miller remain with the team.
2010
Traded Arenas for Rashard Lewis.
A swap of mistakes.
It's not hard to see that there may have been some flaws in the thought process along the way.
In 2010, the Wizards selected John Wall with the first overall pick. For many hopeful fans, it was a sign that brighter times were on the horizon.
However, in order for a point guard with his style of play to enjoy success, he must have some help around him.
Not just any kind of help, either. He needs teammates who fit his style of play and aren't afraid to run up and down the court for the full 48 minutes on a consistent basis.
The Wizards have approximately $23 million invested in Andray Blatche after this season through 2014-15. Rashard Lewis remains the most overpaid player in the sport at a yearly salary above $22 million, and Nick Young has never met an ill-advised jump shot he didn't think was worth an isolation opportunity.
And then there's JaVale McGee, an absolute freak of nature athletically who can jump right out of the building, but an inability to garner any sort of basketball IQ along the way has some questioning the type of player he can become in the future.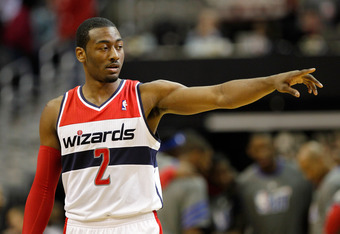 Rob Carr/Getty Images
Terms like selfish and lazy come to mind when talking about Wall's teammates—but above all, it's become blatantly obvious that the team isn't building around the point guard's strengths as they should have been doing since he was initially drafted.
It's extraordinarily frustrating to watch Wall get criticized for things that just aren't his fault.
Comparing Wall's rookie season with his follow-up campaign, here is what we find:
2010-11
16.4 ppg, 4.6 rebs, 8.3 assists, 3.8 TO's, 1.8 steals, 0.5 blocks, 41 percent shooting
2011-12
16.5 ppg, 5.1 rebs, 7.0 assists, 3.9 TO's, 1.3 steals, 1.0 blocks, 41.1 percent shooting
Wall is playing a minute-and-a-half less on an average basis this year, and he's also improved his free-throw shooting by more than two percent to a very respectable 78.8 percent.
Regression? Please.
Perhaps if Grunfeld and the Wizards were able to tailor a roster and or a game plan that was suited to the strengths of their best player, there would be a different feeling about Wall in his second season.
A successful team is built around its best player, and despite having Wall on the roster, the Wizards have failed to do exactly that.