WWE Monday Night Raw: Eve Suffers Broken Nose, How Will WWE Creative Handle It?
February 7, 2012
Last night's episode of Monday Night Raw featured an Eight-Divas Tag Team Royal Rumble Event Rematch and PWInsider.com (via SEScoops.com) is reporting that Eve suffered a broken nose after taking a hard clothesline from Beth Phoenix.
Eve Torres was rushed to the backstage area immediately after she tagged out of the ring during the Eight Divas Tag Team Match on tonight's Raw SuperShow. Torres was hit hard by a Beth Phoenix clothesline. She was severely bleeding from her nose and it is said that she suffered a broken nose.
Over the course of the last few weeks, Eve has become a key player in Kane's efforts to get John Cena to "embrace the hate." With Zack Ryder being written off television for the time being, Kane has continued to harass Eve at every turn.
That being said, the question is how WWE will choose to use Eve's injury—if at all—moving forward.
The fact that the broken nose was supposedly suffered at the hands of Beth Phoenix poses a bit of a creative problem. After all, Eve's involvement on Raw has not been centered around the Divas as of late.
However, knowing how WWE Creative operates, it's not really a problem at all. If they choose to use her injury to advance the Kane-Cena storyline, it seems likely that they will ignore the fact that it happened during the Divas match at all and create a backstage segment in which Kane physically attacks Eve and injures her.
The question then becomes, will they choose to keep her on television or write her off like Ryder?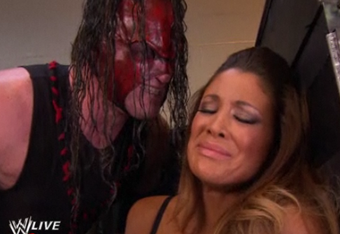 Either option has its advantages. A broken nose is certainly something Eve can work through and if they keep her on television then she could be used in a similar fashion to A.J. over on SmackDown: as a way to place blame on someone, most likely Cena.
Then again, she could be used in the exact same way while being written off TV altogether.
It also should be considered how Eve herself will react to her injury. There has been talk of turning her heel; could her broken nose somehow be used as a catalyst? Perhaps WWE will acknowledge the fact that it occurred during a Divas match and Kane will use her injury as a way to get her to embrace the hate against the other Divas.
It will be interesting to see how WWE addresses this moving forward. It certainly seems like something that should be addressed, considering Eve's recent involvement in a main event storyline.