MLB Rumors: SF Giants Must Move Matt Cain Before His Big Payday
February 7, 2012

Christian Petersen/Getty Images
The San Francisco Giants are going to have some serious decisions to make regarding their roster in the next year, and what to do with Matt Cain ranks right near the top.
The 27-year-old is set to enter free agency at the end of the season and as of now, there hasn't been much progress in contract negotiations according to Cain:
"We've talked ... and it's a process. We'll see what's going to happen. We're definitely here for this year."
The last sentence is all you need to know. "Here for this year" means Cain is well aware that the Giants aren't going to break the bank with him and it's time to start looking towards the future.
Andrew Baggarly of the San Jose Mercury News believes that Cain could fetch somewhere around $150 million over six years on the open market.
He's not worth the price tag.
Last year Cain went 12-11 with a 2.88 ERA and 1.08 WHIP. He is a fly-ball pitcher that benefits greatly from pitching at a large and spacious park like AT&T. While he has shown steady improvement on the road, it's certainly something to consider when discussing his numbers.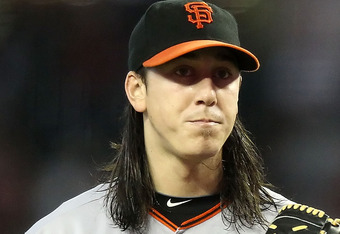 Christian Petersen/Getty Images
The Giants have another major dedication to make on a player that is more well known and has better numbers. Tim Lincecum just signed a two-year $40.5 million extension, but will likely get a mega extension at some point before that. He is the face of the franchise, not Cain.
The Giants are better off fielding offers for Cain now and getting as much value for him as possible. How about landing a big bat for once?
With the way the Giants are set up, they have to have every single bounce go his way to get back to the World Series. The margin for error on offense is incredibly small. It doesn't matter how great your pitching is if you can't put runs on the board.
Shaking things up by acquiring a few bats from a team with an abundance of them like the New York Yankees, Boston Red Sox or Texas Rangers and rolling the dice is a move that may not land them the next MVP, but it would surely net the Giants enough offense to improve their putrid offense.
The alternative is an awkward season of everyone knowing he already has one foot out the door before leaving for a big market while San Fran gets absolutely nothing.
What would you rather have, Giant fans?