Why the Rock Should Lose to John Cena at WrestleMania 28
February 5, 2012

Vince Bucci/Getty Images
The Rock, "the most electrifying man in sports and entertainment," is set to do battle with John Cena, "the captain of the PG era" in the main event this April at WrestleMania XXVIII.
This match, since its booking nearly one year ago, has been called the biggest of all time by the WWE and a decent amount of WWE fans.
While I can't say I believe it will be the biggest match of all time, it will certainly be an extremely important match—a match the Rock should lose.
That's right. The Great One, the People's Champion, should not emerge from WrestleMania XXVIII victorious.
Don't get me wrong, in no way am I a John Cena mark, looking for yet another "Super-Cena" victory.
I am a huge WWE fan, however, and I think booking the Rock to lose would be best for business.
John Cena is, whether you like him or not, the face of the current WWE product.
Now, I love the Rock as much as anybody else out there, but he doesn't deserve to come out on top in this match.
True, John Cena has become a bit dull and uninteresting, even stale over the past year or two, but he's there. Night in, night out, whatever the crowd chants or gestures, he's out there doing what he can with the limits the company puts on him.    
Now, it's no secret that Cena has gained quite a group of WWE fans that hate him. I can't say I'm one of them exactly. I'm currently fed up with his gimmick, but I respect the hell out of the man behind it. Regardless, I can see why these fans would jump into the Rock's corner.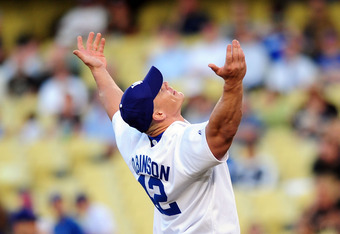 Jacob de Golish/Getty Images
I'm not saying a John Cena victory will convert those fans into supporters. In fact, it'd probably do just the opposite, and make them dislike John Cena even more for beating one of their favorite WWE Legends in the Rock.
As much as I would enjoy seeing John Cena get Rock-Bottomed through the announcers table, or receive the People's Elbow, I don't think he should lose the match.
The Rock, nothing short of a WWE Legend, is one of the best wrestlers of all time; there's no doubt in my mind about that. However, his leave of absence to film a series of action movies, though great for his career, wasn't exactly the way fans wanted to see him go. Regardless, they gave him support as he went off on his own endeavors.
When the Rock returned, I was absolutely ecstatic. The Great One had come back to save the WWE. Or so I thought.
The Rock hasn't appeared very often since returning. It's not his fault; he's an established actor and he has a demanding schedule. All I'm saying is letting the Rock, the man who sporadically appears in WWE programming, beat John Cena, the man who's there every Monday night, would be nothing short of ridiculous.
Sure, some fans don't like John Cena's character. I already said I don't particularly like him either. However, to cut the legs out from under a superstar who hasn't lost cleanly in ages by making him lose to a disconnected veteran is wrong.
The Rock is the face of the WWE's Attitude Era. John Cena is the face of WWE's current era, whatever that may one day be called. This match should not be a chance for the seasoned veteran to kick the rookie's teeth in, it should be an almost symbolic passing of the torch. Remember how it went when Hulk Hogan faced the Rock at WrestleMania 18.
The Rock carried the company for a few years; this should be a chance let him pass the responsibility to John Cena by losing to him at the biggest pay-per-view of them all, WrestleMania.