NHL Trade Speculation: Carolina Hurricanes Need to Deal Pending Free Agents
February 3, 2012

Jim McIsaac/Getty Images
It may only be the beginning of February, but the 2011-12 NHL season is all but over for the Carolina Hurricanes.
With a 19-25-9 record, the 'Canes are currently dead last in the Eastern Conference, and according to SportsClubStats.com, only have a 0.7 percent chance of making the playoffs this year.
Given the circumstances, it's clear a lot of changes are ahead in Raleigh. And for this team to set themselves up for future success—something that will take a considerable amount of time to achieve—a lot of roster turnover will have to take place. That needs to begin now, as the 2012 trade deadline approaches. 
GM Jim Rutherford has an opportunity to swing some deals this month that could drastically improve his team's long-term outlook. By trading away some (or all) of his pending unrestricted free agents, Rutherford can add draft picks and young players that could eventually become major figures in the franchise's return to prominence. 
Tuomo Ruutu, Jaroslav Spacek and Bryan Allen all have contracts that expire this summer, and all three have received legitimate interest from playoff-hopeful teams.
Considering Carolina's current position in the league standings, it would make sense for Rutherford and Co. to plan on being big sellers as February progresses.
"It's a tough time," head coach Kirk Muller said about the trade deadline. "There's some names here being thrown around daily. I commend our guys that are in that situation. They've been playing hard. Our last 10 games we've been playing well as a team. They've kind of set that aside. They know they're professionals and their focus is on just their jobs here and playing. It hasn't been a big issue yet with these guys, but I think it's important and I've talked to them all and said, 'Just go out and play.' Like I said, if you play and do your job well, whatever happens, it's going to be for the best."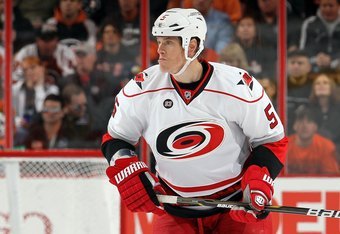 Jim McIsaac/Getty Images
Recently acquired from the Montreal Canadiens, Spacek will almost certainly finish the 2011-12 season elsewhere. Now 37 years old, the Czech native is too old to be a part of Carolina's rebuilding plans, making him a prime candidate for an upcoming trade.
Allen, 31, has been one of Carolina's most valuable D-men this season and has done well despite his team's poor overall performance. The 6'5'' blueliner is ranked eighth in the NHL with 102 blocked shots and could be a vital asset to another club in search of a postseason berth.
Ruutu, the Hurricanes' current goal scoring leader, would be a great player for Rutherford to have in the coming years. But according to Darren Dreger of TSN, the Finnish forward will be dealt in the near future, possibly as early as this week.
Ruutu will be one of the most sought-after players at the deadline, undoubtedly bringing Carolina a sizable return—perhaps even a first-round pick. While letting Ruutu go will be a tough pill to swallow, trading him away makes more sense than potentially losing him for nothing after the season concludes in April. 
Now, just several days into February, the waiting game begins. While it's unclear when we'll see a deal get done, one thing's for sure—the Hurricanes are going to be active in the coming weeks. And if Rutherford plays his cards right, he can take some major steps towards rebuilding the 'Canes.