Everton Rumours: Doyle, Jelavic and Rodallega All Deadline Day Possibilities
January 30, 2012

Stu Forster/Getty Images
With so many clubs dormant for substantial periods of this—often idle transfer window—the final few hours of open business are likely to produce a flurry of last minute transactions.
Rumour mongers are ready on high alert for any shred of information clubs let slip, whilst gossip columns will be poised to dissect any possible move.
At Everton, with Diniyar Bilyaletdinov's £4 million exit seemingly paving the way for some rare financially backed activity to occur, many last minute permutations remain in range for the Toffees.
The Russain joined Shkodran Mustafi in the outgoing columns and, with Darron Gibson likely to be joined by a striker before the Premier League window shuts at 11:00pm on Tuesday, the Toffees' dealings, and overall mobile stance will have surprised many this January.
Late Saturday night, rumblings about a shock move for Wolves' Kevin Doyle were mooted, with the Irish international recently falling out of favour due to Steven Fletcher's red hot form. Doyle resembles the type of talisman often successful at Goodison Park. A player prepared to run full pelt, hassling and harrying defenders right up until the final whistle. 
He is also competent in the air and has generally maintained a healthy scoring rate wherever he has been. Given the chance he could undoubtedly prosper in Merseyside.
Drawbacks and complications with any deal would surround price and whether Wolves would actually be willing to sell. It is unlikely that Everton will be able to barter with much more than what was recouped on Diniyar Bilyaletdinov, and Doyle was bought for £7 million.
Therefore it seems dubious to expect Mick McCarthy being keen on parting with a player who has started the majority of games in his (often solitary) striking berth over the past few seasons.
From Everton's point of view, with finances so tight, buying a 28-year-old is also inadvisable, and a tad precarious, due to their stringent, restrictive business model.
Should the Toffees gain three years service out of Doyle, his value would have drastically decreased once he enters his 30s, however much success he enjoys.The club's frail finances ensure David Moyes has to factor in a potential sell-on price into any transfer equation.
Doyle is undoubtedly on the radar and would certainly do a job, but perhaps there are slightly better options out there. If he is the one to come in, he would still hugely transpose the Toffees' options up front.
With the Doyle link barely digested, Sunday saw rumour columns and social networks overflowing with fresh rumours stemming from Scottish sources, all suggesting Nikica Jelavic was on the verge of joining the Toffees. 
A Croatian international, and persistent goalscorer north of the border, Jelavic has been tracked by Moyes before whilst at Rapid Vienna. A predictable lack of funds prevented any previous bid being lodged.
Jelavic's sharpness in and around the area would certainly add an extra dimension to the Toffees offence, and his goal scoring return has continually been exemplary. His age is more suited to the Toffees' lack of funds although, as of yet, he is untried in the Premier League, a hurdle David Moyes has rarely been keen to cross when buying strikers in the past.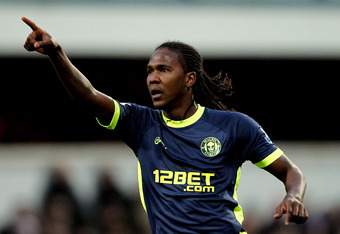 Paul Gilham/Getty Images
Rumours of a bid being launched do not necessarily mean Rangers are guaranteed to accept the Toffees' terms. Although further rumblings about the player being keen to push through the deal could help Everton's case.
A third option to the two more concrete stories currently doing the rounds would be Hugo Rodallega. Out of contract in the summer, the Colombian will be leaving Wigan at some point during the next six months.
When pressed, Roberto Martinez was coy about his striker in a recent press conference, indicating that he may well leave this window so the Latics can gain some capital out of his departure. The player himself has also implied this may be the case.
On the field, he has often been flung out wide in some defensive systems at Wigan, a predicament that has hampered his overall goals tally. Another industrious forward, given a more central role at Everton, where he is likely to be provided with greater service compared to what he has been used to at the DW Stadium, he would surely flourish.
As with Doyle, the advantage of signing Rodallega would be his experience gained in the Premier League. At 26, he is young enough that, should he excel at Everton for two or three years, his price would only increase. At around 28 or 29 he would still be in is prime as a professional.
Rodallega stated during the summer that Everton and Arsenal were keen on him, it is just a question of whether that interest remains, and if Wigan will genuinely consider selling him at a fair price. A wild card, but certainly one Everton should consider. Fulham are also believed to be interested.
Away from forwards, not only are Everton eager to ease the striking frailties in the coming hours, but they continue to be linked to Kostas Manolas, a highly rated young Greek prospect. David Moyes has already admitted the club is monitoring his progress.
For a side rarely featuring in so many recent transfer windows, the Toffees look one of the clubs to watch closely as the deadline approaches.
Long may their dealings continue!
If you liked this article, follow me on Twitter for more EFC chat.