Peyton Manning: Why Indianapolis Colts Are Treating 4-Time MVP Unfairly
January 27, 2012

A. Messerschmidt/Getty Images
Peyton Manning remains uncertain whether or not he'll be able to play for the Indianapolis Colts next season. Jim Irsay may be doing what's best for the "family," but he could be handling the situation with a little more class.
Manning has been the heart and soul of the franchise for over a decade. He was the sun in Indianapolis' solar system. Everything revolved around him.
That has all changed.
The NFL can be a cruel business for those who do not understand the intricacies of building or rebuilding a team. And let's be honest here—the Colts are rebuilding. Sometimes the players are the ones hurt and more often than not it's the fans that can't cope with different decisions made by their favorite team.
The Colts have all but said that they will be drafting Andrew Luck. Whether or not Manning stays around for the beginning of the Luck era remains to be seen.
Either way, it puts Manning in a position he does not deserve nor wants to be in.
The four-time league MVP will not get the fairy-tale ending to his career. If he stays with the Colts, Manning will have a rookie destined for his starting position breathing down his neck.
Not to mention his head coach, general manager and others have been asked to clean out their desks this offseason.
Manning went public this week in an interview with the Indianapolis Star's columnist Bob Kravitz. The 11-time Pro Bowler expressed his discontent and disconnect from the franchise.
"It's not a real good environment down there right now, to say the least. Everybody's walking around on eggshells. I don't recognize our building right now. There's such complete and total change...Everybody's being evaluated and I'm no different. It's not the best environment."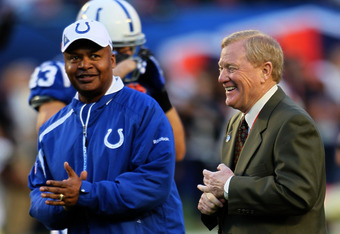 Andy Lyons/Getty Images
With Jim Caldwell and Bill Polian gone, Manning has finally publicly expressed his qualms with the situation at hand. The uncertainty of not knowing whether or not he'll be able to play in 2012 has clearly worn on the franchise's best player.
Manning is at the mercy of the nerves in his neck. There's no exact time frame, medicine or rehab that can accelerate the regeneration of the nerves.
Irsay shot from the hip in his response to Manning's comments earlier this week.
"He's a politician. There have been plenty of eggshells around this building scattered by him with his competitive desires to win. If you've got a problem you talk to each other, it's not about campaigning or anything like that."
Calling the player who made your franchise relevant and competitive for the last decade a "politician" does not make things easier. Irsay was wrong to go to the press about Manning's comments.
For a player to speak out—especially if it's Manning—does not require such a poisonous response. Irsay should have learned from the media with the Brett Favre saga.
He should have used that as a blueprint for what not to do. Now, the rest of the sports world and myself are obliged to talk about every move from here on out and dissect every quote.
Manning deserves the right to stay in Indianapolis, be traded or retire with as little negative fanfare as possible. Stating that your franchise quarterback is "campaigning" does not allow that to take place.
Irsay needs to think about what's right for the "family" and keep his mouth shut. Act like an owner, not a sensitive "politician."