2012 NHL All-Star Kris Letang Is Enjoying the Change of Plans
January 26, 2012

It's a most deserving honour for Kris Letang to play in the 2012 All-Star Game, but an ironic one for a player who never dwells on individual contributions or acknowledgement.
Added to the All-Star lineup for the game that takes place on Sunday in Ottawa, Letang, who happily cancelled alternate plans he had made once he found out he was on the roster, is the epitome of a team player.
"You are always happy when your own numbers are strong, but it really doesn't mean anything if the team isn't doing well," said the 24-year-old, who recently returned to the Pittsburgh lineup after he missed the previous 21 games while contending with a broken nose and concussion. "That's the way I've always felt."
But he's also feeling good these days in knowing he'll be skating alongside some of the game's top stars in the Canadian capital.
"There are so many great players in this league, and that's something you notice as soon as you start your career," said Letang, who will be making his second-consecutive All-Star appearance after his debut last year in Carolina when he was voted into the contest by fans. "You always have to be at the top of your game when you go up against them."
Letang, who was one of the stars of last year's game, tallying two goals for Team (Eric) Staal, has totaled five goals and 18 points in 26 games in 2012. Letang is averaging 0.88 points per game this season, one of the top averages among all NHL blueliners.   
The 62nd-overall selection of the Penguins in the 2005 NHL Entry Draft has been ultra-consistent since he launched his big-league career in 2006-07.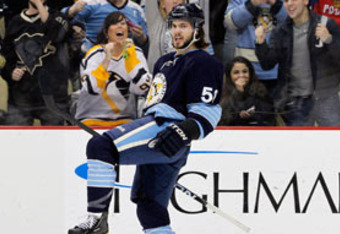 Letang netted his first NHL goal in his third game, against the New York Rangers in a 6-5 win. After contributing two goals in seven games, Letang was returned to his Quebec Major Junior Hockey League club (QMJHL), Val-d'Or, to further hone his skills.
Skating in his third campaign with Val-d'Or, Letang led the Foreurs to the 2007 QMJHL Finals with 31 points in the postseason. After his team was eliminated from the playoffs, he was assigned to the Wilkes-Barre/Scranton Penguins of the American Hockey League (AHL), who were competing in the second round of the Calder Cup playoffs.
Letang was subsequently honoured with three significant QMJHL awards. In addition to receiving the Emile Bouchard Trophy, as the league's best defenceman, and the Paul Dumont Trophy, as the best personality, he also received the Kevin Lowe Trophy as the best defensive defenceman.
It's a part of his game he takes great pride in.
"I've always worked hard to improve my defensive side of the game, and I've felt it building since I came into the league," said Letang, who appeared in all 82 games last year, while posting a career-best 50 points, including eight tallies. "Every year, you work on getting better at everything, but it feels just as good to stop a goal than it does to score one. I just want to show that I can play solid defence."
While he might have his work cut out for him at the All-Star Game, a contest where heavy hits and physical play is a rarity, Letang, who won two gold medals with Team Canada at the 2006 and 2007 World Junior Championships, has plenty of other weapons in his on-ice repertoire, most notably speed and precision passing skills.
Regardless of the outcome, the native of Sainte-Julie, Quebec is thrilled to get yet another opportunity to play in the 59th edition of the annual game.
And although it won't showcase the intensity of a hard-fought Stanley Cup final, it's a safe bet the 6'2", 210-pounder will take his job seriously.
"I had a great time last year and to be able to represent my team is something very special," said Letang, who joins centreman Evgeni Malkin on the All-Star roster, giving the Penguins at least two All-Star representatives for the fourth straight season. "It's always a lot of fun and it's great to be able to play on the same ice with so many amazing players."
Letang, who attended last year's game with teammate, goaltender Marc-Andre Fleury, certainly deserves to be back again in an All-Star uniform, even if he'd be hard-pressed to agree.
Unless otherwise noted, all quotes were obtained firsthand.
Related Content
Joffrey Lupul:Keeping the Leafs in the Playoff Loop
Jordin Tootoo Is Hungry for More Playoff Success
NHL Announces ALL-STARS for 2012 NHL All-Star Weekend