UFC on Fox 2: Chris Weidman Talks Demian Maia, Olympics and More
January 26, 2012

Alexander Graham Bell once said, "When one door closes, another opens; but we often look so long and so regretfully upon the closed door that we do not see the one which has opened for us."
While Bell's statement holds true for many individuals over the course of their lives, the same can't be said for the life of Chris Weidman (7-0).
Following a spectacular wrestling career at Hofstra University, Weidman became a part of the 2008 Olympic Games.
However, Weidman's career path wouldn't lead him to an Olympic podium but rather a chance to fight for one of the world's fastest growing organizations—the UFC.
Weidman's success has allowed him to remain unbeaten and undoubtedly earn the opportunity to fight in front of millions on national television when he takes on Demian Maia (15-3) at UFC on FOX 2.
UFC on FOX 2 will take place at the United Center in Chicago beginning at 5 p.m. PT and 8 p.m. ET.
Weidman recently sat down with Bleacher Report's Garrett Derr and shared his thankfulness of a second door opening at a point in his life where he needed it the most.
"I actually wrestled at Hofstra University and had the dream of one day becoming an Olympic athlete. I tried out for the 2008 Olympic Games," said Weidman. "I ended up not making the 2008 Games and was stuck with a decision to make.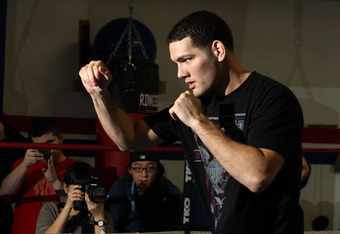 "I could either choose to go the route of mixed martial arts or attempt to try out for the 2012 games. As we know now, I chose MMA."
Weidman's decision proved to be the right one after all, as he currently stands with a perfect 7-0 record and is fighting under the UFC banner.
However, Weidman faced another fork in the road just days before signing with the UFC as he was offered a contract from the organization of Bellator.
"It's actually a pretty crazy story. I already had made dinner reservations with my family to announce that I would be signing with Bellator. At the time, I really wanted to be fighting for the UFC, but the opportunity wasn't there," said Weidman.
After an unexpected turn of events, two days later, Weidman had joined forces with the UFC, ultimately fulfilling a lifelong dream.
"Two days later I had signed with the UFC. It was such a relief and I was so glad it had finally happened. I already had a family and desperately needed the money to support them," stated Weidman. "It was a surreal and crazy feeling."
After several rigorous decisions, "The All-American" was faced with yet another decision
Weidman was offered the opportunity to fight Alessio Sakara at UFC Live: Sanchez vs. Kampmann.
The only problem: he was given just two weeks notice.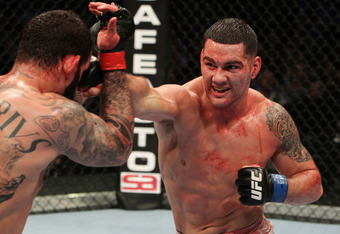 Despite minimal time to train for his opponent, Weidman gladly accepted and found himself victorious in his Octagon debut via unanimous decision.
The decisions continued to pour on Weidman following a Mark Munoz injury that would ultimately open up the opportunity to fight Maia on national television.
"I was asked if I would fight Maia on the FOX card as injuries opened up another door," said Weidman. "It was a difficult decision at first, as it was on such short notice again. But within 30 minutes of receiving the phone call, I had already made up my mind. I was going to take the fight. I knew at that moment if I didn't take the fight, then someone else would have stepped in and taken it. It wasn't something I couldn't turn down."
Weidman will be entering the Octagon to take on the toughest opponent of his career as Maia has squared off with some of the world's greatest martial artists in Anderson Silva, Chael Sonnen and Mark Munoz.
"We all know how skilled Maia is and he's one of the best in the world for a reason. He's a mastermind in Brazilian jiu-jitsu which is something I've been training for. But, I'm a wrestler and I'm used to being on the ground.
"My strength kind of plays into his strength," said Weidman. "I believe my wrestling will ultimately be the deciding factor in this fight."
Also joining Weidman on the main card at UFC on FOX 2 will be fellow middleweights Chael Sonnen and Michael Bisping who will be squaring off for the chance to face Anderson Silva for the 185-pound title.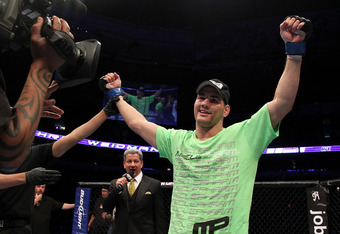 Weidman weighed in with how he thought the co-main event would play out.
"I think Chael Sonnen will beat Michael Bisping mainly because of his wrestling. Chael spent a lot of time training for Munoz, who's also a great wrestler," said Weidman. "Being a wrestler, I know how much time and how physically tough it can be in preparing for an opponent like Munoz.
"Chael will be well prepared and I think he'll be able to control the fight and take it where he wants to take it."
With a win, Sonnen or Bisping will move on to face current middleweight champion Anderson Silva at some point in 2012.
However, with Silva's recent injuries, it wouldn't be out the question to state "The Spider" may not even return to fight at all in the new year.
If that were the case, there's an outside chance the winner of Sonnen vs. Bisping could move on to face the winner of Weidman vs. Maia for the 185-pound interim title.
While circumstances would certainly have to fall into place for this to even occur, Weidman would be honored to have the opportunity.
"Man, I'd be more than willing to step in and fight for the title if something like that would occur."
At 27 years of age, it's likely Weidman's chances at UFC gold will come soon enough.
While Weidman has endured great success over the early stages of his career, he's often reminded of those who've helped him become the man and fighter he is today.
"I really need to thank all my wrestling coaches from growing up and all the way up through college," said Weidman. "I wish I could shine a spotlight on each and every one of them."
"Most importantly, I'd like to thank my wife and family. They've been there since day one, through the ups and the downs," stated Weidman. "I wouldn't be who I am today without them."

For additional information, follow Garrett Derr on Twitter.