Yuri Wright: Top Recruit in Trouble over Tweets Reportedly Going to Colorado
January 24, 2012

Yuri Wright is a 4-star cornerback who made headlines for being expelled from school after vulgar tweets. Some schools stopped recruiting him, but it is now known this talented defensive back is headed to Colorado. 
Tyler Duffy of The Big Lead tweeted where Wright was headed, along with a link to why he didn't land with a more marquee program.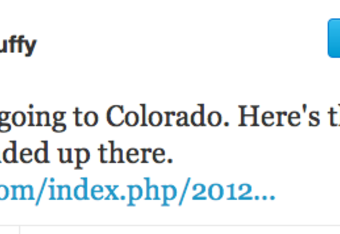 The story, which you can see here, shows the sexually graphic and racial tweets that led to Wright being expelled. 
Adam Munsterteiger covers Colorado for Rivals, and he confirmed the news that Wright is choosing the Buffaloes.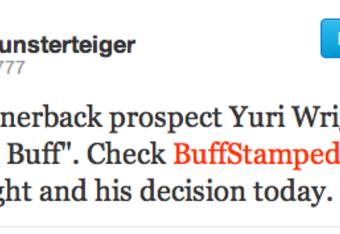 This is a huge pickup for Colorado, as it's triumph over schools such as Notre Dame and Rutgers. The Buffaloes finished 3-10 overall and 2-7 in their first season in the Pac-12, so getting one of the best available cornerbacks definitely brings a smile to their face.  
While Colorado desperately needs help on offense, landing a talented corner like Wright is a big addition to what was a horrendous defense. The Buffaloes need help all over, and Wright is going to give them that. 
Colorado ranked 109th in scoring and points allowed, only averaging 19.8 points per game, but also giving up an average of 36.5 points per game. 
Listed at 6'2", 180 pounds, Wright is the seventh best cornerback by Rivals. The recruiting site also compares him to Dominique Rodgers-Cromartie, which is an indication he'll thrive in his college career. 
Choosing the weaker program gives Wright a chance at better playing time upon his arrival. Had he decided to go with another school, he could have been waiting longer to play.
It was unclear which schools might drop Wright from their recruiting boards because of his tweets, but Colorado stuck with the kid and it has paid off. 
Of course, no recruit is safe until he signs on the dotted line, which means Wright is still up for grabs. With National Signing Day just over a week away, it wouldn't be surprising if Wright swaps his decision and signs with a completely different team. 
No verbal commit is safe these days, so stay tuned with Bleacher Report as we update you with the latest news. Be sure to check out the College Football home page, as well as the recruiting home page.