NFC Championship Game 2012: San Francisco 49ers Must Focus on Positives
January 23, 2012

Thearon W. Henderson/Getty Images
The San Francisco 49ers suffered a heartbreaking overtime loss to the New York Giants in the NFC Championship Game, but they should still hang their heads high because there are many positives to take away.
Entering the 2011 season, very little was expected of the 49ers. The NFL lockout prevented new head coach Jim Harbaugh from getting a real offseason with his team, but San Francisco shocked everyone by dominating the division, finishing the regular season 13-3 and claiming the No. 2 seed in the NFC.
Despite playing at home, the 49ers were underdogs in their first playoff game against the New Orleans Saints. Once again, they proved their critics wrong, using stellar offensive performances from Vernon Davis and Alex Smith to advance. 
The defense was the strong suit all season long, but in the divisional round of the playoffs, everyone saw that this 49ers team is capable of greatness on offense. 
They weren't able to come through in the NFC Championship Game, but they can use all of this as motivation for next season. 
Harbaugh finally gets a full offseason to help improve his players, and because they lost in overtime, it will fuel each and every player on the roster to get better.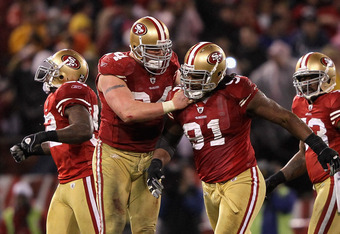 Jamie Squire/Getty Images
There are negatives that come with every loss, but since this is the final game of the year, spending too much time on what went wrong does more harm than good. 
San Francisco is headed in the right direction, and with the NFC West being such an easy division, there's no reason to believe this talented team can't win it again next year. 
Smith is a free agent this offseason, so figuring out what to do with him will be the first order of business. The former No. 1 overall pick wasn't getting anywhere, but the arrival of Harbaugh has turned him into a legitimate quarterback.
This past season, Smith threw for over 3,000 yards for the first time in his career. He also had a career-best touchdown-to-interception ratio with 17 to five. 
Smith is by far the biggest positive to take away from the 2011 season because many feared the 49ers would still be having issues at quarterback. 
Now, all Smith needs is another playmaking wide receiver and he'll get even better. With Harbaugh as his coach, Smith should remain with the 49ers much longer than anyone anticipated a year ago. 
The 49ers are back to being a team others will fear, and that is why the coaches, players and fans should be happy right now. Sure, the loss stings, but the future is very bright, and life is much better when focusing on the positives instead of the negatives.