Fantasy Baseball 2012: The Effect of Citi Field's New Dimensions
January 21, 2012

Christian Petersen/Getty Images
Since Citi Field opened in 2009, the Mets' home ballpark has been the hardest to hit a home run in. Citi Field has only allowed 1.43 home runs per game, the lowest of any stadium.
With a 415-foot power alley in right center and a wall 16 feet high in some places, it's easy to see why this was such a pitcher-friendly park.
Citi Field will have new, smaller dimensions, however, for the 2012 season. Most notably, the wall in right center field will be moving in 17 feet. In addition, most of the outfield will have eight-foot walls, which will also help make this park a more hitter-friendly one.
Let's take a look at how this may affect the fantasy values of a couple of Mets heading into the upcoming season.
All of the Mets sluggers should benefit from Citi Field's alterations, but especially David Wright. Wright hit a home run every 20.4 at-bats prior to 2009, compared to every 28.5 at-bats since.
He is the only Met to surpass 20 home runs since their new park opened.  He has a lot of power to the opposite field, and will be glad that right-center will be getting a face-lift.
Look for a boost in production from Jason Bay, Ike Davis, Lucas Duda and especially David Wright, who could have his first 30 home run season since 2008.
Johan Santana
While the new dimensions won't make it easier for any of the Mets' pitchers, it will be especially tough on Johan Santana. Of the starters, Santana has the worst GB/FB ratio.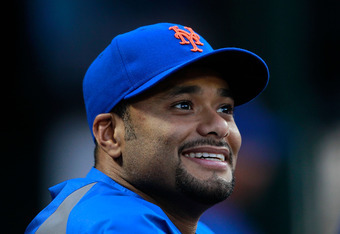 Chris Trotman/Getty Images
Mike Pelfrey, Jonathon Niese, R.A. Dickey and Dillon Gee all induce about the same amount of ground balls as fly balls.
Santana, on the other hand, has generated only 0.61 ground balls per fly ball in his career. This ratio was even worse the last two years, at 0.56 and 0.61 in 2009 and 2010, respectively.
You can expect that some of the fly balls that would have fell harmlessly in the huge outfield will now be leaving the yard for a home run.
Even if it weren't for the dimension changes, I would have passed on Santana in upcoming fantasy drafts. His velocity has been in steady decline and his strikeout rate has followed suit.
Add in his recent shoulder surgery and the new Citi Field dimensions, and you're looking at a very high-risk player. Let someone else pay for the name.
For more fantasy baseball insight and to join the Beat the Kings fantasy league challenge, visit us at http://www.fantasysportskings.com/.