2012 NFL Draft: Lamar Miller Wrong Choice for Bengals
January 20, 2012
Coming into the 2011 season, it looked like Cedric Benson was going to be shouldering the offensive load. With a first round rookie at wide receiver and a second rounder at quarterback, most thought Benson would average around 25 carries a game facing defensive fronts of seven or more men in the box.
Fortunately for Cincinnati fans, the duo of Red Dalton and AJ Green were able to put up record-breaking rookie numbers that helped drive the Bengals into the playoffs for the second time in three seasons. After a quick exit from the Wildcard round, the Bengals are coming into one of their most important off seasons in over 20 years. 
The Bengals have multiple needs on both sides of the ball; however, two of the biggest holes they must fill are at defensive back and running back.  With Leon Hall attempting to make a comeback from an Achilles injury that ended his season in November, along with an aging Nate Clements in the defensive backfield, the Bengals will be looking at selecting whom they think the top corner will be at No. 17.
It appears that Cincinnati will have a plethora of options to choose from with Dre Kirkpatrick coming out early from Alabama, Alfonzo Dennard of Nebraska, and the most intriguing pick of the bunch, oft-troubled Janoris Jenkins out of North Alabama.
Draft experts have slotted both Dennard and Jenkins being selected by Cincinnati with this pick. However, all three of the players have top flight ability and the talent to come in and start for the Bengals next season.
One of the biggest head-scratchers for the Bengals staff to figure out is who will be shouldering the bulk of the carries in the run game in 2012. Cedric Benson has had a nice run in Cincinnati with three straight seasons of over 1,000 rushing yards. But his explosiveness and durability have both been in decline over the past two years.
After a season in which Benson had less than 300 carries for the first time since 2008, he had no problem sharing his feelings about Jay Gruden's offense stating, "I wasn't a big fan of it." This paired by his various off the field issues, it has become evident the Bengals are ready to move on without Benson.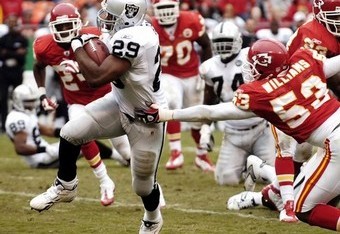 Someone that most experts believe can be a difference maker for Cincinnati is Lamar Miller out of Miami.  Miller is an explosive running back that has breakaway speed which is something the Bengals have not had in over a decade. He is believed to run the 40 yard dash in sub 4.4 second time and ran for over twelve hundred yards for the Hurricanes this past season.
The majority of the draft pundits currently have Miller going to the Bengals at either of their first round slots. While this may seem like a no-brainer for the Bengals, people are ignoring all of the red flags and risks surrounding Lamar Miller. 
First and foremost, Miller has durability issues that have seemingly gone unnoticed in recent mock drafts. He recently had surgery to repair a shoulder injury that plagued him for the majority of the season.
Another big concern is the small sample size of Miller's work. Yes, he was a solid backup in 2010 rushing for 646 yards on 108 carries; however, he has only shouldered the load of being a starter for one full season. Miller also tends to run straight up and down and fails to get pad leverage when being tackled, another attribute that will land him on the IR in the NFL's brutal sixteen game schedule.
What NFL executives like Mike Brown need to accept is the fact that the NFL has become a pass first league. 
If you take a look at the top 10 teams that led the league in passing this past season, seven made it into the playoffs.  Running backs are a dime a dozen and those that aren't "can't miss" prospects, tend to be busts.
Does anybody remember the last running back the Bengals took in the first round?  It was Michigan star Chris Perry who struggled with durability at the next level and never even landed a starting gig.
Enough said.
The Bengals need to focus on strengthening their interior line with a pick like David DeCastro or even Cordy Glenn. It's always a great offensive line that makes average backs into Pro Bowlers.  The best route the Bengals can take is to focus on picking up a big name back in free agency.  Backs like Michael Bush and Jason Snelling have shown potential and would be nice compliments to Bernard Scott.