Chicago Blackhawks: Patrick Sharp's Absence Turning into a Good Thing
January 19, 2012

Jonathan Daniel/Getty Images
Patrick Sharp hasn't been on the ice for the Chicago Blackhawks since sustaining a wrist injury during a 3-2 loss to the Detroit Red Wings on Jan. 8, but Sharp's absence is turning into a positive experience for the rest of the team. 
A number of players have stepped up and thrived during his absence.
Panic was many people's initial reaction when hearing about Sharp having to miss about a month of action on the ice, and that reaction still makes plenty of sense. 
Sharp had scored 20 goals and tallied 20 assists prior to being placed on IR, and there were numerous occasions when he led the Blackhawks to victory.
Chicago's loss to Detroit on the evening Sharp sustained his injury was the team's fourth in a row.  Things were not looking good for the Hawks as it was, and Sharp's injury was just adding salt to an open wound.
Since Sharp's injury, the Hawks have gone on to tally nine out of 10 possible points in the standings column, combining to score 23 goals in those five games compared to the nine netted during the team's four-game losing streak in which Sharp was present.
All of this production has been courtesy of not just a few players, rather it's come from the team's role players, rookies and the core.
Role Players
Dave Bolland and Viktor Stalberg are two Hawks who've stepped up and put forth effort on the ice that's paid off on a nightly basis. 
Bolland has tallied eight points in the last five games, and Stalberg has racked up five goals and an assist after not finding the score sheet the previous four games.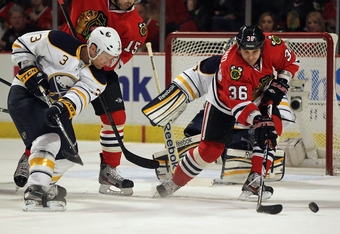 Jonathan Daniel/Getty Images
Bolland was having what some may consider a quiet season before Sharp's injury, but that's not all his fault. 
Often times he was centering the third line with Bryan Bickell and Michael Frolik on the wings, and those two have been the Hawks' biggest disappointments of the 2012 season. 
Skating with two players who've struggled as much as Bickell and Frolik have doesn't make Bolland's task any easier.
Injuries were nagging Bolland during the early goings of the season, but it seems as if he's healthy judging by the solid two-way game he's been playing since the new year.
Stalberg, on the other hand, has had a number of opportunities to skate with the Hawks' top line—centered by Jonathan Toews, with Patrick Kane on the wing—and he's been healthy the whole season.  
Stalberg still couldn't find a way to produce consistently, but he heated up prior to the new year and has since taken on a significant scoring role with Sharp out of the lineup.
Rookies
Blackhawks GM Stan Bowman and head coach Joel Quenneville have been adding and subtracting prospects from the Hawks' roster throughout the entire season, but a couple of the team's most recent additions, Jimmy Hayes and Andrew Shaw, have been performing well enough for the front office to consider whether or not the two rookies deserve a permanent spot on the Blackhawks' roster.
Hayes, 22, made his Hawks debut on Dec. 30 against the Red Wings and immediately made his 6-foot-6, 220-pound presence known. 
His size is deceiving, though, because he has the finesse and skill to score regularly.  The Boston College product has tallied seven points in his short time in the NHL.
Shaw, 20, is as opposite of a player as it gets from Hayes, but his production is nearly identical. 
At 5-foot-10, 180 pounds, Shaw's presence is immediately felt by the opposition when he's on the ice, but it doesn't take long for the other team to feel his wrath.
Shaw dropped the gloves with Zac Rinaldo in his NHL debut against the Philadelphia Flyers. 
Not too long after, he made a beautiful move to avoid Flyers D-man Kimmo Timonen and beat Ilya Bryzgalov for his first career goal.  Since then, Shaw has netted four more goals and tallied an assist.
Shaw's goals aren't pretty, like the way Sharp often lights the lamp, but he's not afraid to get physical, bleed a little bit and do the dirty work around the opponent's net.
He reminds me of Bolland. 
He crashes the net and plays solid defense, so coach Q has given him time on both the power play and penalty kill because of the instincts he has at both ends of the ice. 
It's looking like Shaw is going to make a living in the NHL crashing the net and playing two-way hockey, and that's no knock on the little guy with a big game.
The Core
The usual suspects, Jonathan Toews and Marian Hossa, have continued to step up when the team needs them the most; however, they haven't had to be relied on to win games because of the various contributions up and down the bench.
Hossa has managed to find the score sheet in every game that Sharp has been absent, tallying eight points since the new year. 
Hossa has racked up 49 points this season, which ranks him in the NHL's top 10.
The only thing that can be asked of Hossa is to stay healthy.  As long as he's on the ice on a regular basis, the Hawks will be in good shape.
Toews, also known as Captain Serious, can be called Old Reliable. 
He's earned at least one point in every game since Sharp sustained his injury, while tallying 10 points during the month of January.  His 26 goals rank him No. 2 in the entire NHL.
Toews' production hasn't come easy lately.  He's taken a bit of a beating throughout the last couple of weeks in which he's had to get stitched up in two different spots on the left side of his face. 
Talk about old time hockey.  There isn't anyone else in the league who Blackhawks fans would want leading their team.
The Blackhawks are going to be in a good state when Sharp returns if production continues to come from the entire lineup while Sharp nurses his wrist injury. 
Players, no matter how much NHL experience they have, are taking on new responsibilities in order to help the Blackhawks strive while one of the team's leaders is sidelined.
No matter what moves Bowman makes before the trade deadline, this Sharp injury is already helping to improve the team because of the additional experience and responsibilities every player is embracing.
Well, every player except for Bickell.