UFC's New Testing Policy:Why It Will Keep MMA from Losing Fans Like Baseball Did
January 18, 2012

Michael Cohen/Getty Images
The UFC is now going to be testing potential new fighters who are about to sign with the company with Strikeforce. Anyone who wants to fight in the company will now have to prove that they are not on performance enhancing drugs.
It may not be the perfect solution, but it is a way to show fans that the company is serious about drug testing and make sure the fighters compete fairly.
Most new fighters will probably not be on PED's when tested, but the rule is a symbol more than anything else.
Come to the UFC and you are expected to fight clean.
Even if it never catches one abuser it will help the promotion in a different way.
It will make them look good in the eyes of the fans.
Fan perception can make or break a sport, especially one as young as MMA. If the fans feel the sport is mostly filled with cheaters, it will damage that sport in a way that never heals.
Losing the fans' support will end any sports reign, including those that have been around longer.
The best example is baseball.
In 1998, people couldn't turn around without seeing Sammy Sosa or Mark McGwire's face somewhere. Their home run race was something even those who didn't follow baseball knew about. It had become as big as Mike Tyson or Michael Jordan.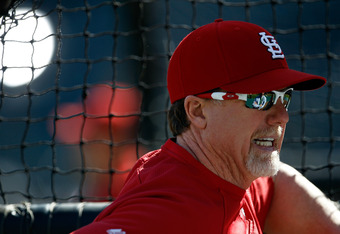 Tom Pennington/Getty Images
It was bigger than the sport itself and because of that, baseball did well.
It wouldn't even be a decade later that these same men would damage baseball forever.
In 2005 there was a congressional hearing on the use of PEDs in baseball. Players came out and admitted they had used them while others remained silent. Suddenly, fans who had been skeptical about baseball's impressive showings in the last few years were proven right and fans who hadn't suspected were dismayed.
It took McGwire until 2010 to admit that he had been on steroids when he broke the home run record.
It wasn't just Sosa and McGwire. So many baseball players had taken PED's that fans felt betrayed.  Cheating had almost become the norm.
To this day, the sport still hasn't fully recovered.
And that was baseball.
"The Great American Pastime."
If MMA faced something like that today, it would crush the sport. 
Baseball turned a blind eye while many of its athletes injected themselves and made the game more exciting. It paid a price for doing so.
That was a sport with over a century of history. The regulated version of MMA has been around for about a decade.
The UFC may never catch a steroid user with the new rule, but they send another message to fans along with the one sent to fighters.
That MMA has learned not only from boxing's follies, but baseball's as well.
And it won't repeat them.
Matthew Hemphill writes for the boxing, MMA, and professional wrestling portion of Bleacher Report.  He also hosts a blog elbaexiled.blogspot.com which focuses on books, music, comic books, video games, film, and generally anything that could be related to the realms of nerdom.