NY Rangers Owner James Dolan Says They're Stanley Cup Contenders...Is He Right?
January 18, 2012

Bruce Bennett/Getty Images
The New York Rangers defeated the Nashville Predators 3-0 last night and retook the points lead among NHL teams with 62.
It was just the kind of win New York was looking for after getting embarrassed 4-1 against the Montreal Canadiens on Sunday.
Dan Girardi and John Mitchell both notched their fourth goals of the season, Marian Gaborik and Carl Hagelin contributed with assists and Ryan Callahan broke a five-game scoring drought with an empty-netter to cap off the victory.
Henrik Lundqvist got back on track as well, stopping 27 shots on his way to his fourth shutout of the year, on the heels of losing his last two starts and giving up a combined seven goals in the process.
Apparently it was also the perfect opportunity for team owner James Dolan to tell reporters in the Madison Square Garden media room Tuesday about a little "pact" he and Rangers General Manager Glen Sather made a while back:
"I'm very proud of the organization. I'm particularly proud of Mr. Sather because all the way back to 2004 when things weren't going so well and we had a lot of free agents here and we decided to basically re-do the strategy, Glen and I made a pact. I gave him something, which I won't reveal today, but I gave him something to seal the pact. I said, 'You can't give it back to me until we win the Stanley Cup.' And I think we're pretty close to getting that thing back."


Yes, it's official—the New York Rangers are now Stanley Cup contenders. Why?
Because owner James Dolan says they are.
There's no doubt that Dolan is excited about his hockey team, and who could blame him?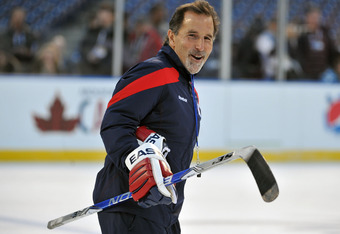 Christopher Pasatieri/Getty Images
The Blueshirts' .705 winning percentage at this point in the season is their third-best start in franchise history and the best in 40 years.
But anyone familiar with this team knows that their coach, John Tortorella, is certainly not thinking about the Stanley Cup right now, and he didn't miss the opportunity to take a quick, playful jab at Dolan and his comments.
"I have my owner up here talking about a Stanley Cup. That's a bunch of bull****," Tortorella said in response. "We need to take it one game at a time."
Could you expect anything else from Torts?
It's also nice that Dolan mentioned Sather "re-doing" his strategy, as the Rangers GM wasn't always as successful.
Before the 2004-'05 lockout, he nearly drove the franchise into the ground. Instead of focusing on growing talent, as he is now, Sather went the way of "big-time" free agent signings and "blockbuster" trades. Players like Bobby Holik, Darius Kasparaitis and Anson Carter were brought in to resurrect the team.
This strategy failed. His strategy since the lockout, as Dolan points out, has been much more effective.
The New York Rangers you see today are an even mix of home-grown talent (Henrik Lundqvist, Ryan Callahan, Marc Staal, etc...) and big acquisitions (Marian Gaborik, Brad Richards, Ruslan Fedotenko, etc...).
With the February 27 trade deadline approaching, talks of another big-time acquisition are sprouting. Whether that comes to fruition is another story, but either way, the Rangers will be in the mix right into the postseason.
You can bet, however, that they'll be taking it one game at a time.