Tottenham Hotspur: A Positive Take on the 1-1 Draw with Wolves
January 16, 2012

Ian Walton/Getty Images
Another weekend of Premier League fixtures has passed, and Tottenham fans will undoubtedly be disappointed.
This was a chance to go level on points with the league leaders.  This was a chance to build momentum heading into next week's top-of-the-table clash with Manchester City.  This was a chance for Tottenham to shake their bugaboo from Molineux (not-so-fun fact: Tottenham managed only four points from 12 against Wolves in the previous two seasons).
But after 90 minutes, they got a draw.  For those of you not familiar with the Premier League, anything but a win against a team whose name starts with a "W" is pretty much a loss.
However, this article isn't looking to incite riots (and increase reads) by claiming Tottenham's "short-lived" title challenge is over (it's one game, people).  Instead, this article looks at the positive side of a 1-1 draw with Wolves.
To be clear, Tottenham actually played very well, with 69 percent possession and 26 shots (seven on target); Wolves only had five shots with three on target.  Barring a great save from Wayne Hennessey, Aaron Lennon may very well have scored the winner in the 53rd minute. 
All this came against a Wolverhampton team that basically stacked their box with eight players (aggressive move, McCarthy).  Sometimes, things just won't go Spurs' way. Nonetheless, it's nice to know they can at least dig out a point when that happens.
More importantly, though, this game was a reality check.  During the week, Redknapp boasted about Tottenham eschewing big spending to earn the title the right way in a not-so-subtle stab at Manchester City and Chelsea.  That bugged me.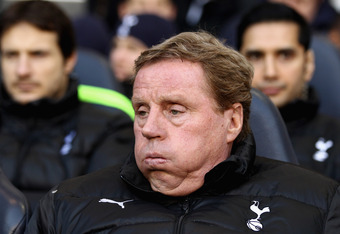 Ian Walton/Getty Images
It's not that I disagree with him; I've long said that the Manchester City approach to transfer windows (i.e. buy everyone with legs) is a blight on football.  And one of the reasons I love Tottenham is because they don't resort to reactive spending.
I just don't like that he came out and said it.  Everyone knows Manchester City is just Sheikh Mansour playing a live version of FIFA 12.  But, don't attack them in the media. Beat them on the pitch.  Then, shut up and watch as they desperately force a new purchase into their squad, pushing their ego-heavy monument to money that much closer to implosion. 
Tottenham doesn't need a holier-than-thou mentality; leave that to Arsenal.
And you can bet a few of the Tottenham players approached this game as an annoying detour on the road to the Etihad Stadium. Before this match, Van der Vaart kicked off the prematch war of words with Manchester City.  That can't happen. 
Tottenham's (so far) successful campaign has not been built on toppling the giants; they have a modest return of seven points from 15 against the Top 6.  There are 14 other teams in the league, and to ignore or underestimate them would be the end of Tottenham's season.
Don't get me wrong, beating the big teams is important.  But, three points against Manchester City is equal to three points against Wigan come the end of the season.
So, although I'm disappointed with the result, perhaps a reality check was more important than a win. A little humbling now is better than a repeat of the end of last season. 
And after Monday, Spurs will probably fall five points behind City (I don't see them losing to last-place Wigan).  That's fine.  It could even be eight after next week.  That's fine, too.  Tottenham needs a little fear in them.
Because while Redknapp and Co. are aiming for new heights this season, I'd prefer if their egos didn't get there first.