NFL Playoff Picks: Gore and Akers and Martini Shakers
January 13, 2012

Otto Greule Jr/Getty Images
San Francisco's bartenders will be busy on Saturday night.
Let's hope North Beach doesn't get trashed the way it did following the 49ers' first Super Bowl victory. But come the cocktail hour on Saturday, the City will be in a festive mood as it toasts the Niners' first playoff win since the Garfield administration (or so it seems).
Before I go further, let me apologize to Gerald V. Hern for my little rhyme. Hern, former sports editor of the Boston Post, penned the poem about the Boston Braves that has been shortened in popular memory to "Spahn and Sain and pray for rain." (For an enlightening discussion, see Jim Kaplan's excellent book, The Greatest Game Ever Pitched: Juan Marichal, Warren Spahn and the Pitching Duel of the Century.)
Just like the Braves, whose great pitchers Spahn and Johnny Sain wore down opposing batters season after season, the 49ers will rely on their Pro Bowl running back Frank Gore and Pro Bowl placekicker David Akers to grind the Saints.
If you want an offensive blueprint for this game, look back to Monday night of Week 15. Against the then-highly regarded Pittsburgh Steelers—now a playoff memory—Gore carried 18 times for 65 yards and a touchdown, quarterback Alex Smith threw to tight end Vernon Davis for a score, and Akers kicked two field goals.
Nothing fancy—just ball-control offense, near-perfect balance (31 passes, 30 runs) and a decisive victory.
This time, the 49ers will need Gore and Akers even more.
That's because the Saints, as people have written all week, have more fancy weapons than the cast of Mission Impossible.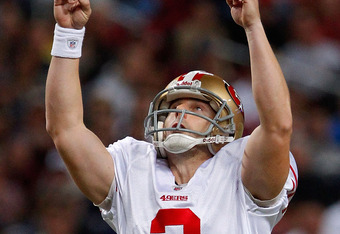 Whitney Curtis/Getty Images
And the oddsmakers, in fact, have said it will be beyond the reach of the 49ers to haul down the likes of quarterback Drew Brees, tight end Jimmy Graham, wide receivers Devery Henderson, Marques Colston and Robert Meachem, and running backs Chris Ivory, Darren Sproles and Pierre Thomas.
While they're at it, they might as well throw in the Preservation Hall Jazz Band and the pastry chef at Antoine's.
What the Saints lack, however, is competence against the run. Their defensive average of five yards per carry during the regular season was tied for second-worst in the league.
And that's nothing short of old-time Dixieland to the ears of Gore and 49ers offensive coordinator Greg Roman—for two reasons.
First, it means the Saints are weakest where the 49ers are strongest. San Francisco will pound Gore into the line until the Saints finally stop him, if they ever do. Throw in enough passing to keep the Saints off-balance, and Gore will be effective all afternoon.
Second, running the ball chews up the clock and keeps Brees and his high-flying pals off the field.
In an ideal world, Gore would get to the end zone at least twice. Smith would also connect with Davis and maybe wide receiver Michael Crabtree for a couple more scores.
Let's be real: It probably won't happen.
This is where Akers comes in, as he has all season. With his magnificent left foot, he can put the 49ers on the board every time they penetrate the 35-yard line.
As I wrote earlier this week, the Saints will get their points—probably three touchdowns' worth. My Bleacher Report colleague Ted Johnson, in his post on Thursday, projected a similar score, guesstimating 24 for the Saints.
Ted's final prediction was Niners, 26-24. Mine remains San Francisco, 23-21.
Either way, plan on hoisting a glass in celebration as the sun goes down on Saturday.