Kell Brook and Matthew Hatton Make It Official, Will Fight March 17
January 11, 2012
Nick Laham/Getty Images
Kell Brook and Matthew Hatton will meet on March 17 in a fight between Britain's two best welterweights. The fight has been in headlines for weeks, but was finally announced officially today and will take place in Brook's hometown of Sheffield.
Brook's promoter, Eddie Hearn, stated that they have tried to put this matchup together for the past year. But the fight now seems to have reached critical mass.
"It's perfect timing for both fighters," Hearn said.
Brook (26-0, 18 KOs) has emerged as one of the sport's hottest prospects with a series of quality wins since 2010. Brook fought three times in 2011, all in the second half of the year, including wins over tough veterans Lovemore N'dou and Rafal Jackiewicz. His knockout of Jackiewicz, who had never been down or stopped in his previous 48 bouts, was especially impressive.
Hatton (42-5-2, 16 KOs) held the European welterweight title prior to his March 2011 loss to Mexican superstar Saul Alvarez. Despite dropping a clear decision, Hatton gave Canelo a more difficult night than expected. He finished the year by beating unheralded Andrei Abramenka in August.
Hatton feels his experience will be the decisive factor against the 25-year-old prospect.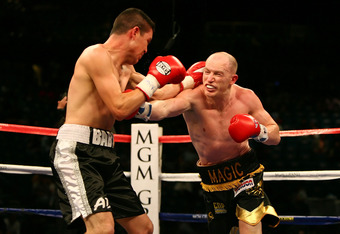 Al Bello/Getty Images
"This is a massive night and a massive fight, but it's nothing new to me," Hatton, 30, said. "Fighting Kell in Sheffield isn't something that's going to keep me awake."
For his part, Brook is confident in his recent form and performance against common opposition, namely N'dou, with whom Hatton fought to a draw in 2009.
"I know I'm comfortably the best welterweight in Britain, and I'm going to put in a devastating performance on March 17 to show the world just that."
Brook made his American debut in December on the undercard of the Super Six final between Andre Ward and Carl Froch. He stopped Luis Galarza in Round 5.
British middleweight Darren Barker, coming off of his title challenge to Sergio Martinez, will appear on the undercard.