Patriots vs. Broncos: Why Tom Brady and New England Will Blow out Denver
January 9, 2012
Elsa/Getty Images
That was certainly a thrilling end to a great game. I'm not going to lie I thought there was almost no chance that Denver could possibly beat the Pittsburgh Steelers. The Steelers seemed to have the perfect storm to beat Denver: a solid offense and a great defense to contain Tebow and make him throw. 
Well, Tebow literally beat them through the air, which surprised everyone. However, against the Patriots in the divisional round, Denver has no chance and is going to get thoroughly beaten, just like they did earlier this season against New England. 
I know what everyone (especially Skip Bayless) is going to say: Tebow through for 316 yards and two touchdowns. He ran for 50 yards and two touchdowns. Well, that's not going to happen next week. Tebow only completed nine passes in regulation against the Steelers. There is simply no way you can beat New England if you complete only nine passes in the entire game. 
New England's defense isn't that strong this year, but against it Tebow only had 11 completions. He's not going to suddenly become a great passer good enough to put up the 35 or so points it'll take to win, if Denver is lucky. All New England's defense has to do is force a couple of turnovers and allow Brady, Welker and the rest of the gang to do what they do, which is put up big point totals. 
The only way I can possibly see Denver winning this game is if the defense can force Brady to turn the ball over four times or more, which isn't going to happen. Denver has a great defense, but New England's offense can't be stopped, only contained. They've scored 20-plus points every game this season, and they won't slow down now. 
Unless Tim Tebow becomes an All-Pro passer overnight, this game is all but over. Some of the ducks he threw up today were plain awful. Hate on me all you want, but I see this game being even wider than when these two teams met in Week 15. I'm rolling with New England all day—call it 38-13.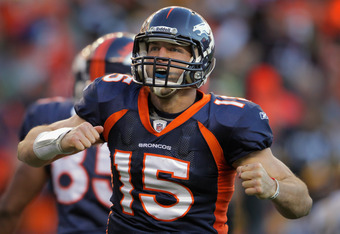 Doug Pensinger/Getty Images
One final note I'd like to make, and I stress that I don't want to offend anyone, but it's really becoming unbearable for me as a sports fan to have to witness how the press glorifies Tim Tebow every single second. Tebow's faith as a devout Christian is obvious. But if he was a devout Muslim would he receive the same positive attention from the media?
No, He would be portrayed ENTIRELY differently, and quite honestly it bothers me because it's unfair. If a player came out and praised Allah after winning a game, or prayed facing Mecca during the game on the sidelines, would the media be all over it, eager to show how devout and wholesome that player was? 
As a person I think that Tebow is a good guy and I don't have a problem with him, but the media really needs to stop. It's enough already, just let him go out and play like everyone else, there's no need to elevate him above other players, because from a talent standpoint he doesn't deserve it. He's not that good, and it'll be proven this week.